Martha's Vineyard Hospital Invitation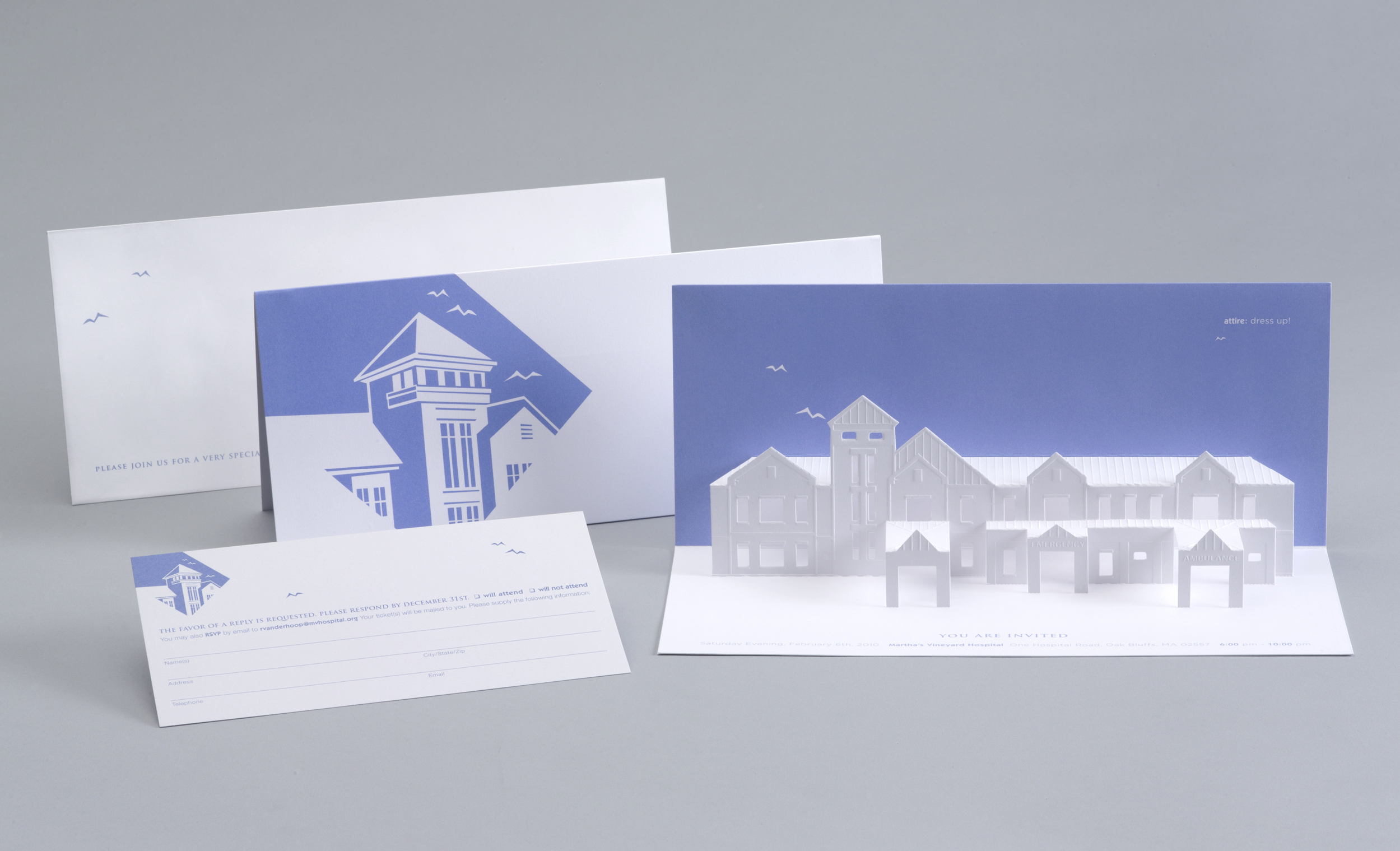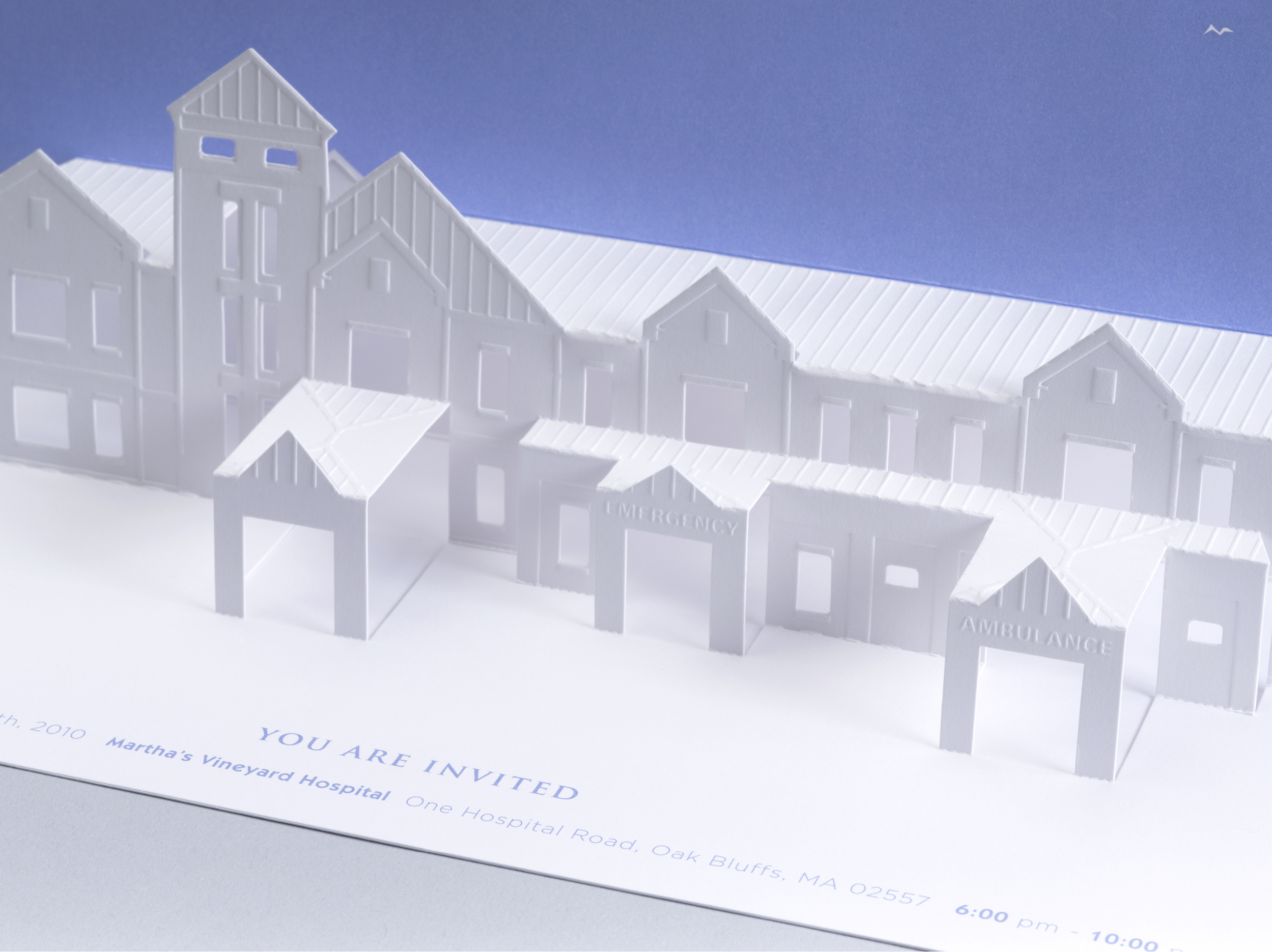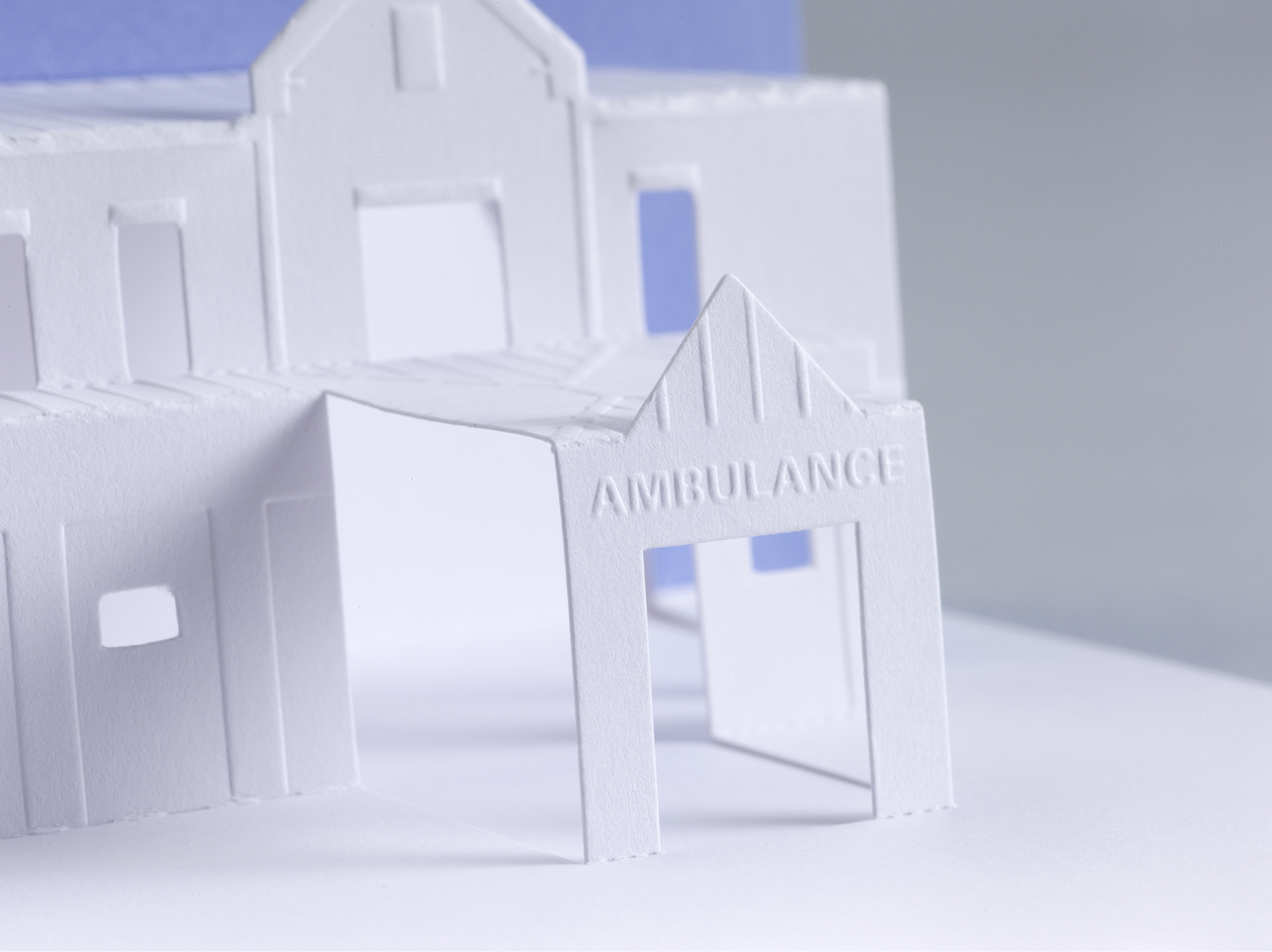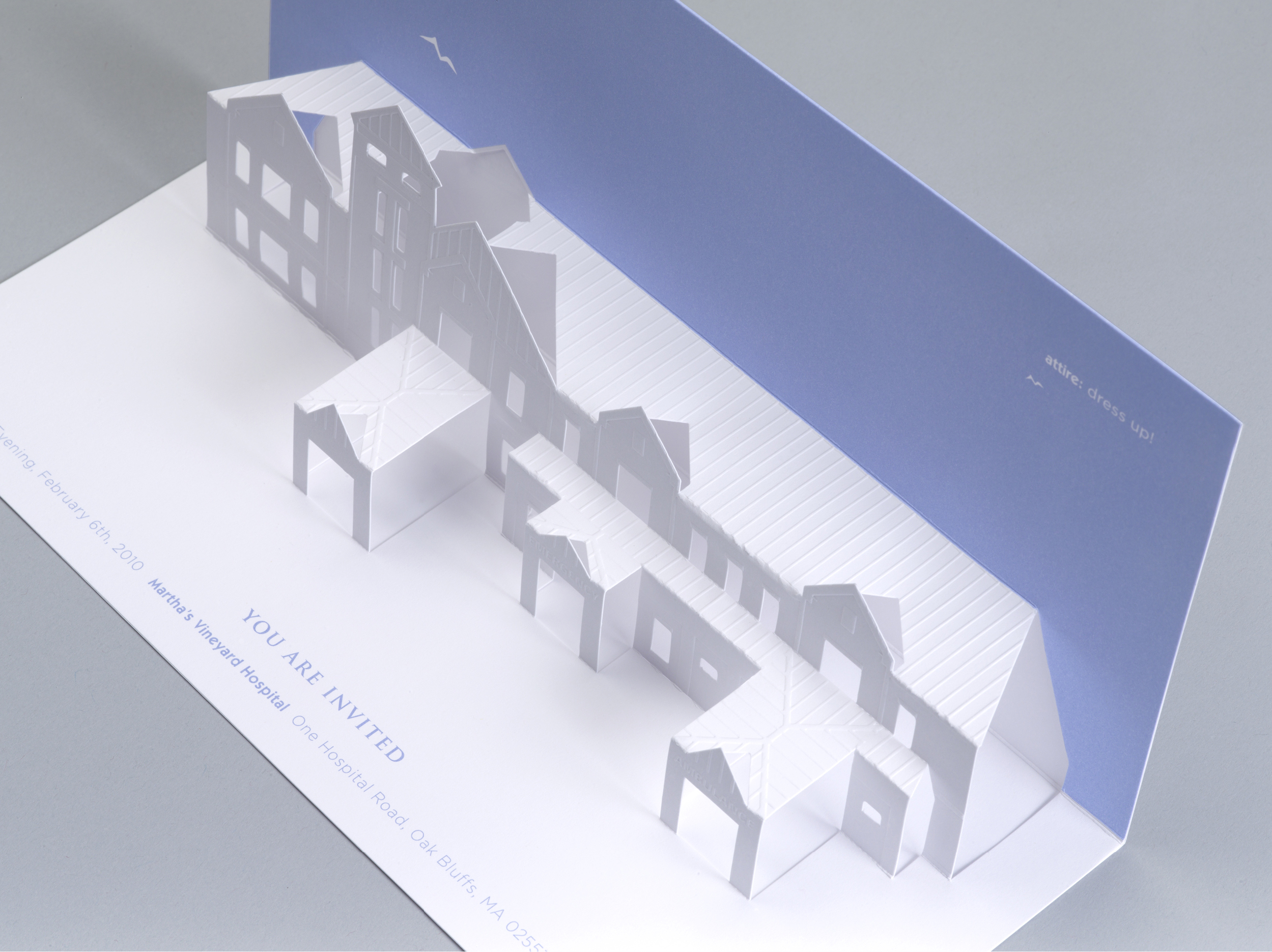 We are delighted to announce that our Martha's Vineyard Hospital Invitation has won an esteemed AIGA 365 award and has been initiated into the AIGA design archives. The Martha's Vineyard Hospital comes to life in this unique pop-up invitation. Designed for the grand unveiling of the new hospital, this Gala Opening Reception invitation is a 3-dimensional representation of the building.
Lenox Hill Hospital Gala Invitation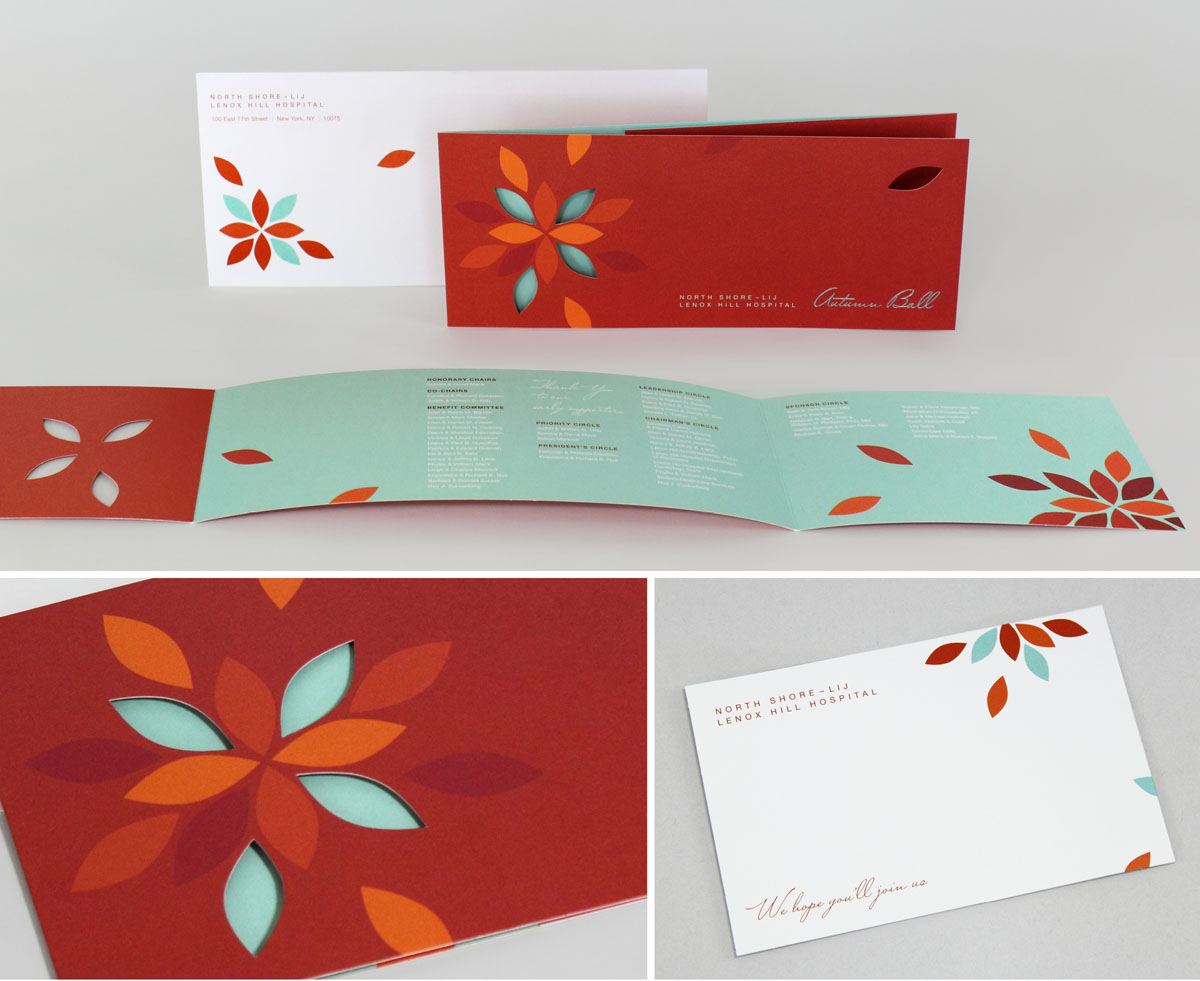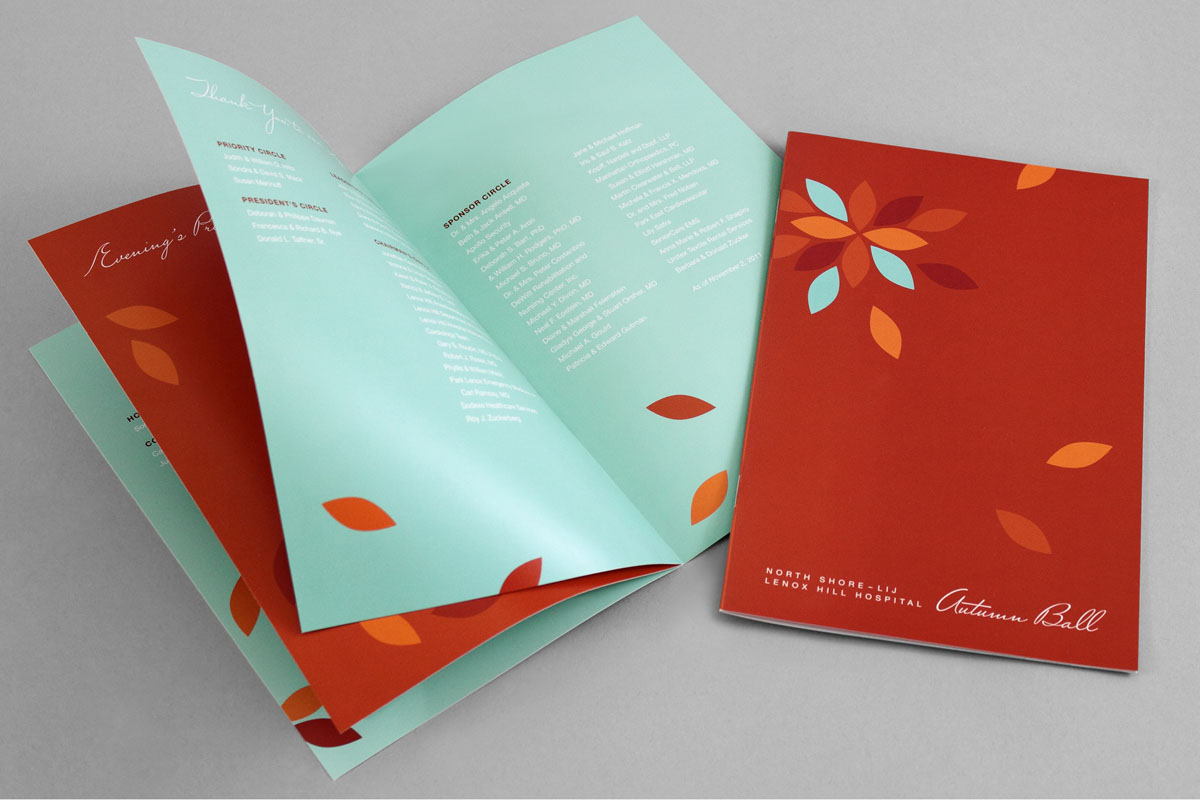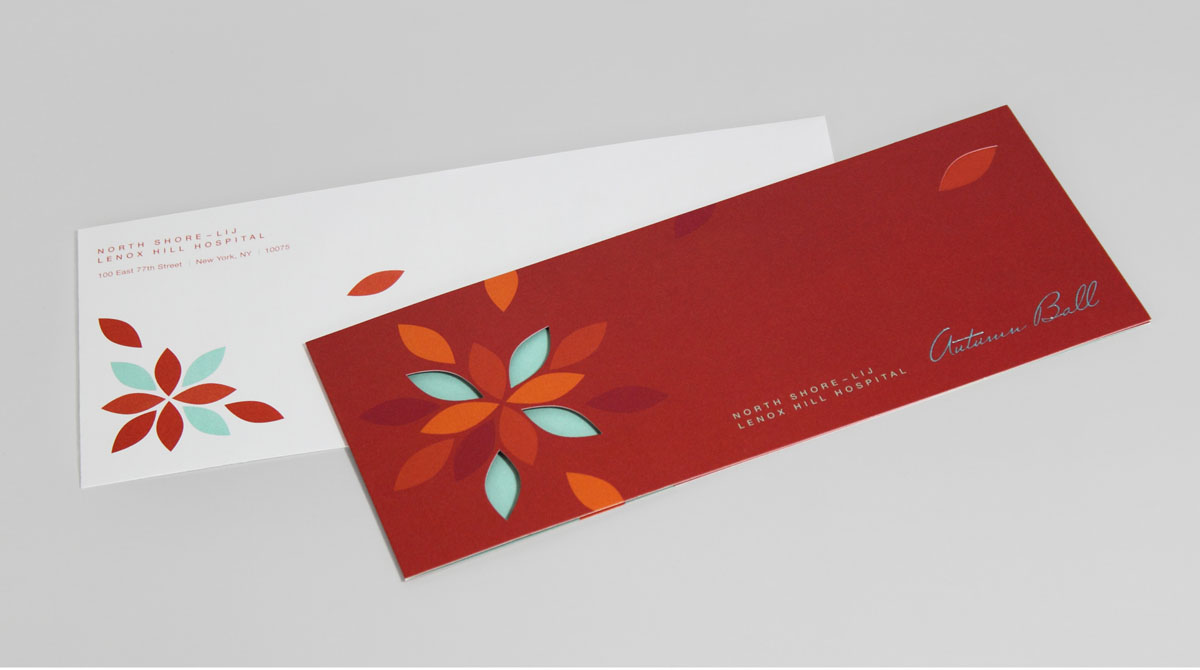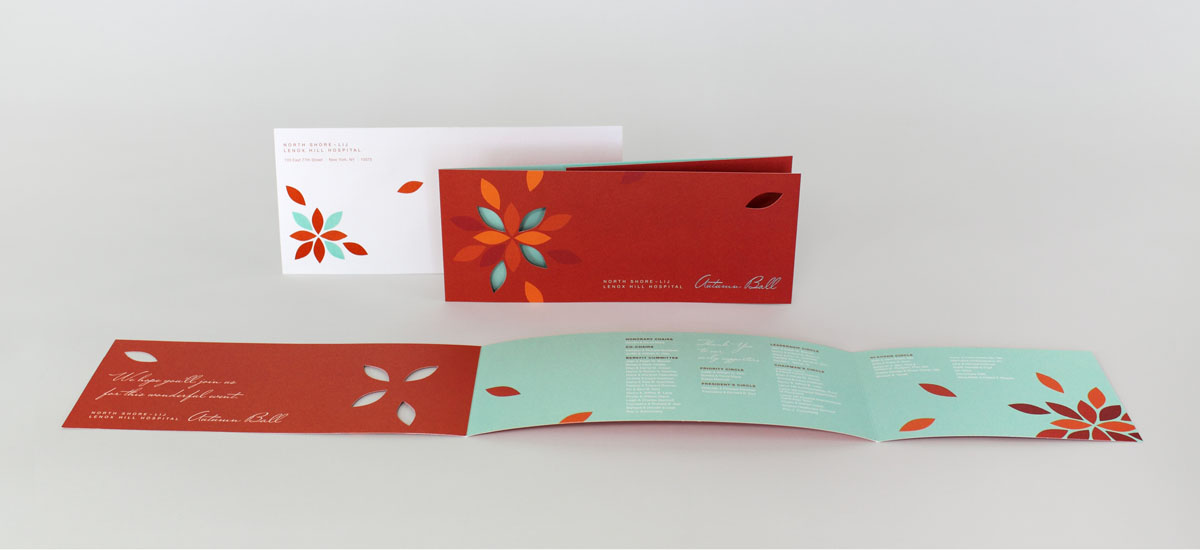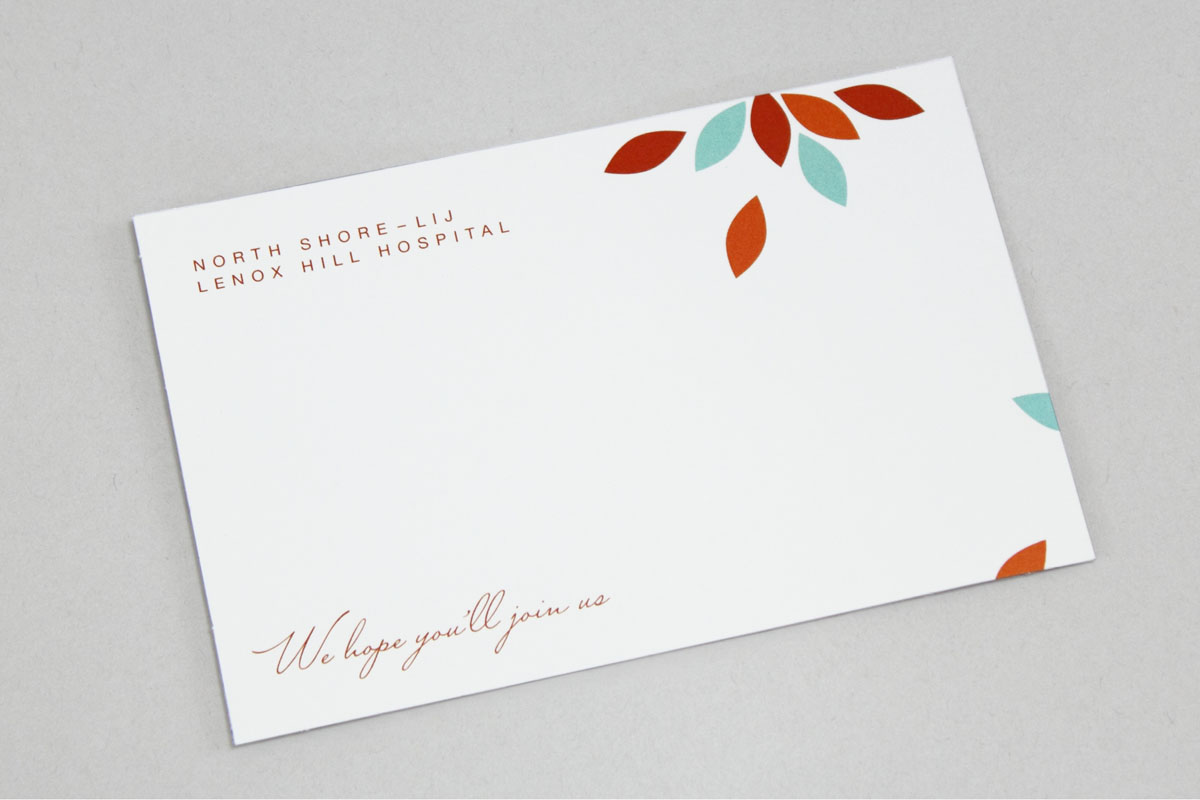 For the LIJ-Lenox Hill Hospital Autumn Ball, we decided on a fun fall leaf motif for the invitation package. The simplistic leaves playfully blow across the pages, and the use of die-cuts and foil stamping add to the uniqueness of the invite. Working on this project made us want to go outside and jump into a pile of leaves!
Lincoln Center Gala Invitation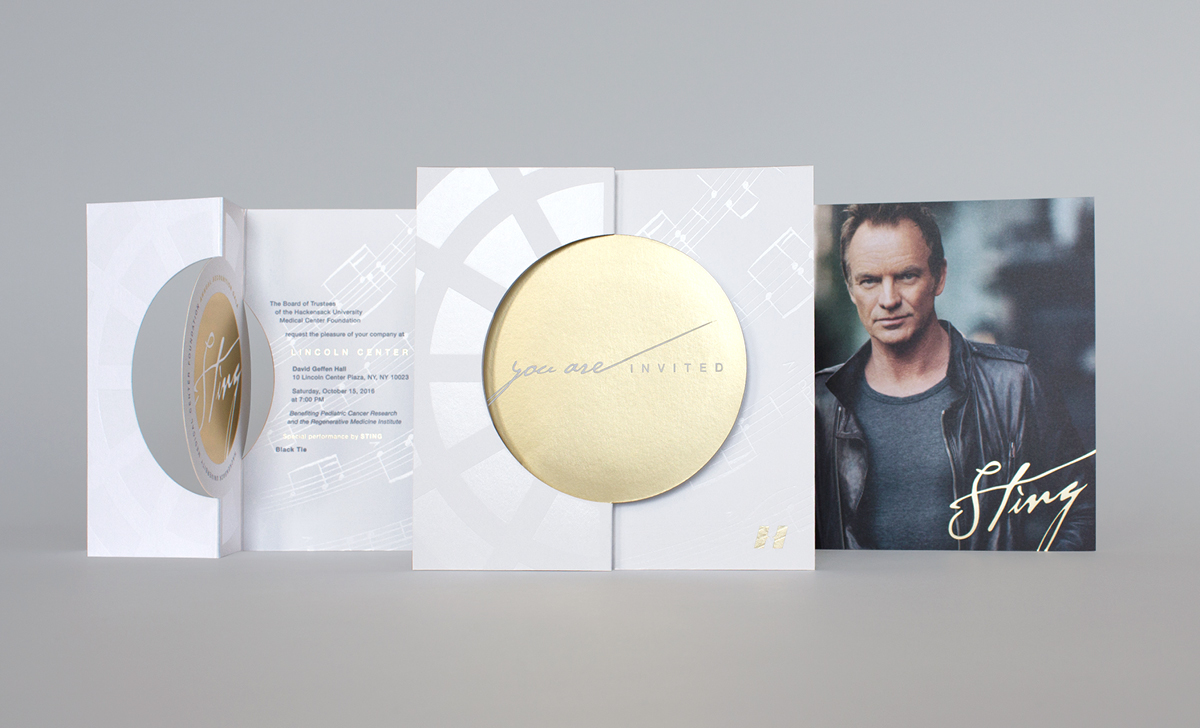 Die-cut and foil stamped Gala invitation for Hackensack University Medical Center Foundation's Annual Recognition Gala, held at David Geffen Hall in Lincoln Center.  Special performance by Sting.
Yankee Stadium Gala Invitation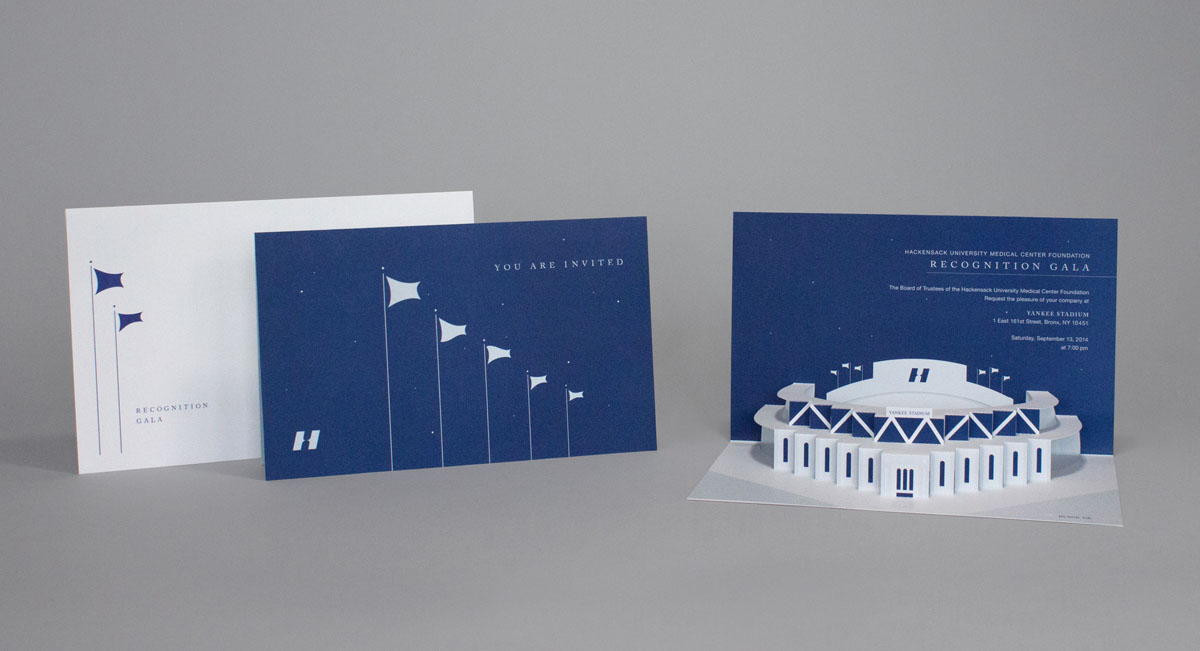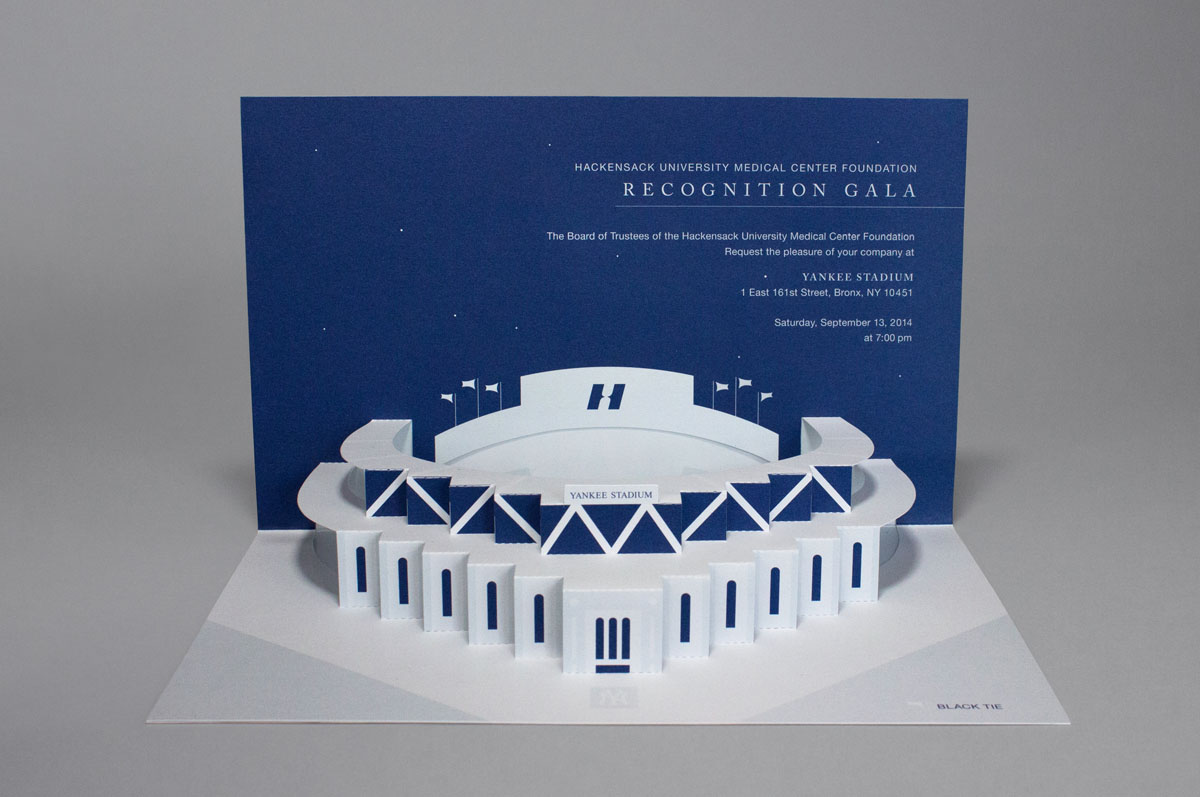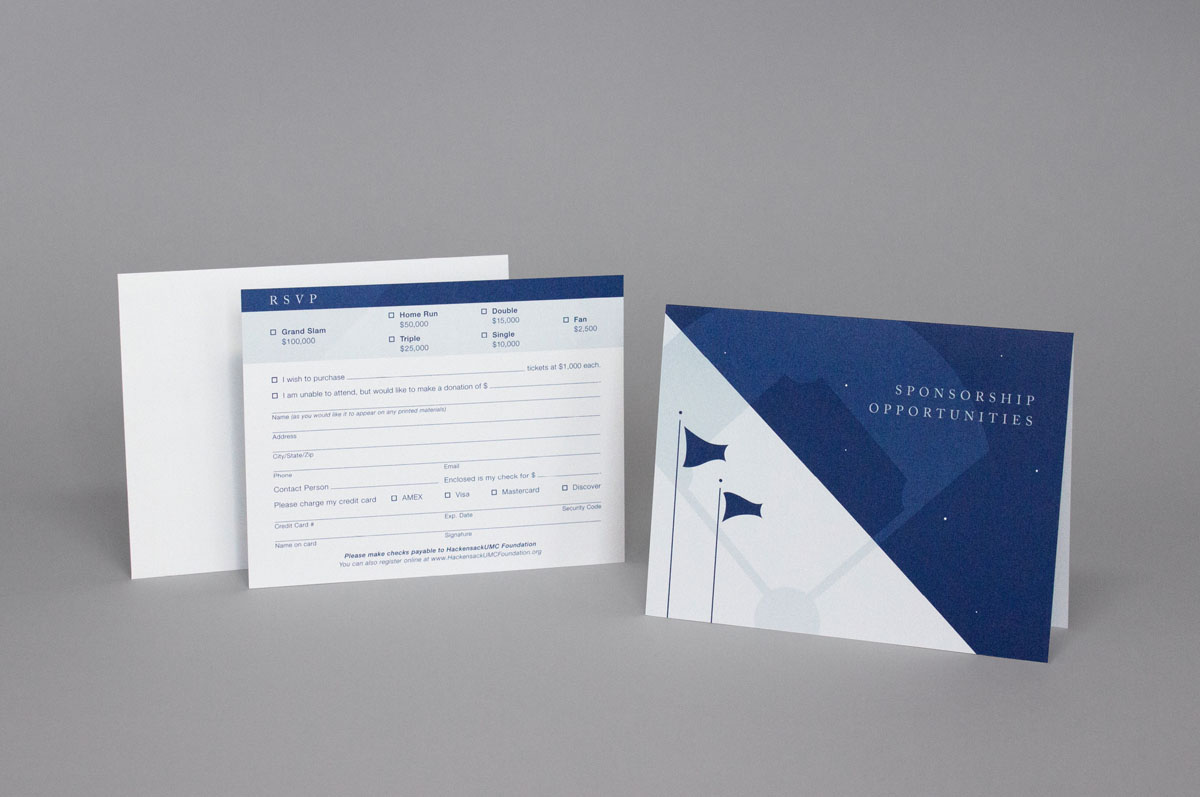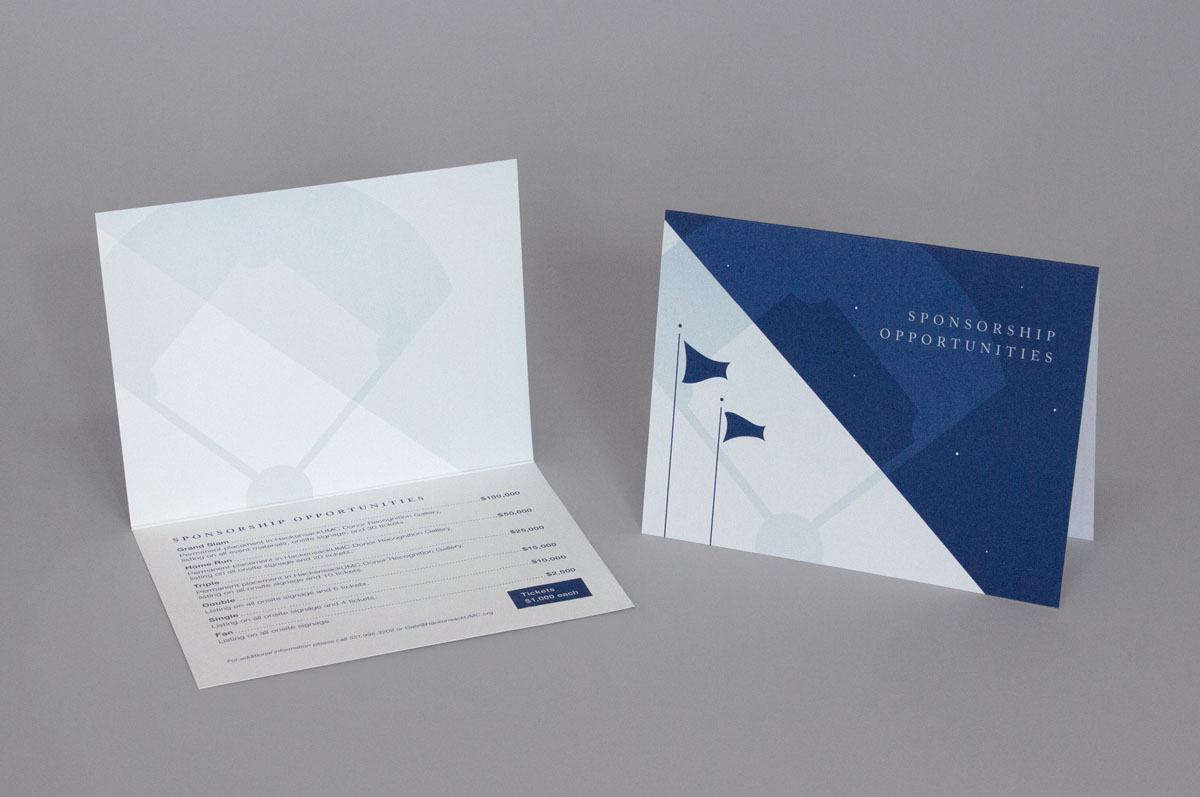 This invitation was for Hackensack University Medical Center Foundation's Annual Recognition Gala, held at Yankee Stadium. The Foundation wanted a special and memorable invitation, so we designed a pop-up of the stadium, with simple, elegant and modern graphics, that really let the structure take the stage. The popup was constructed from one piece of paper, for economical assembly. We are proud to announce that this invitation was selected as a winner of the PRINT CELEBRATES DESIGN 2014 Award.
Realm Boutique Grand Opening Invitation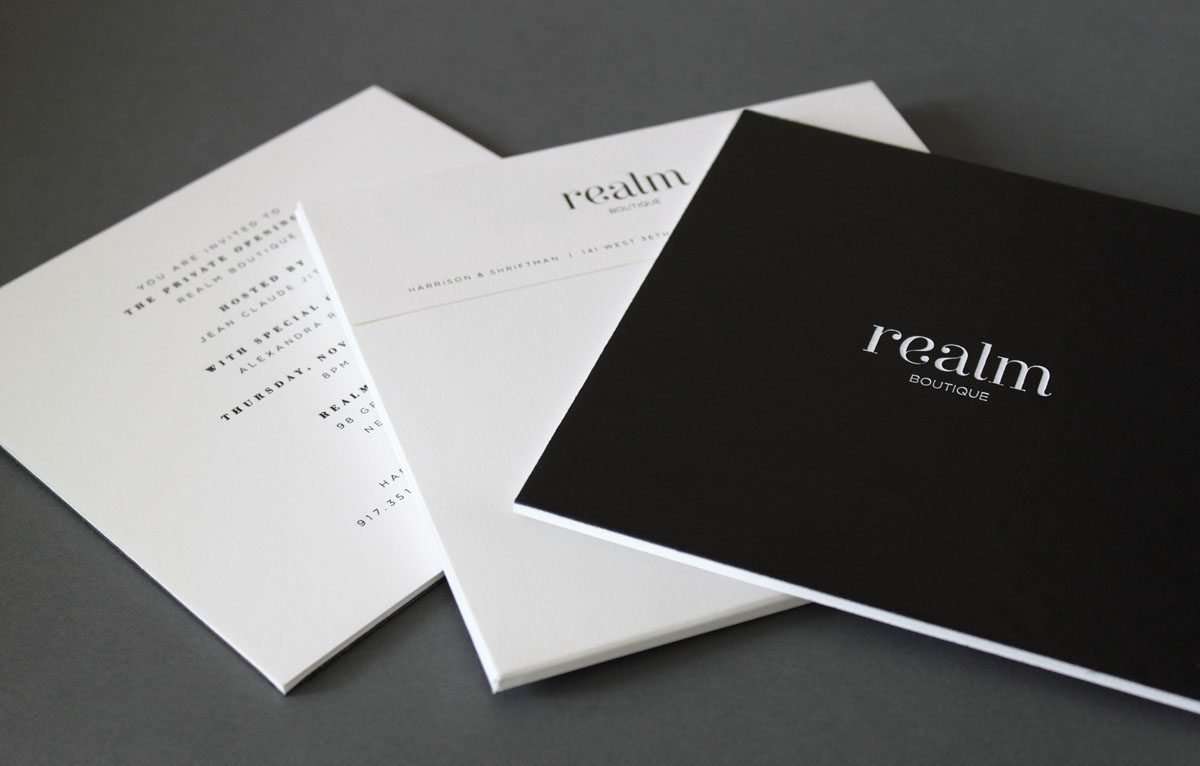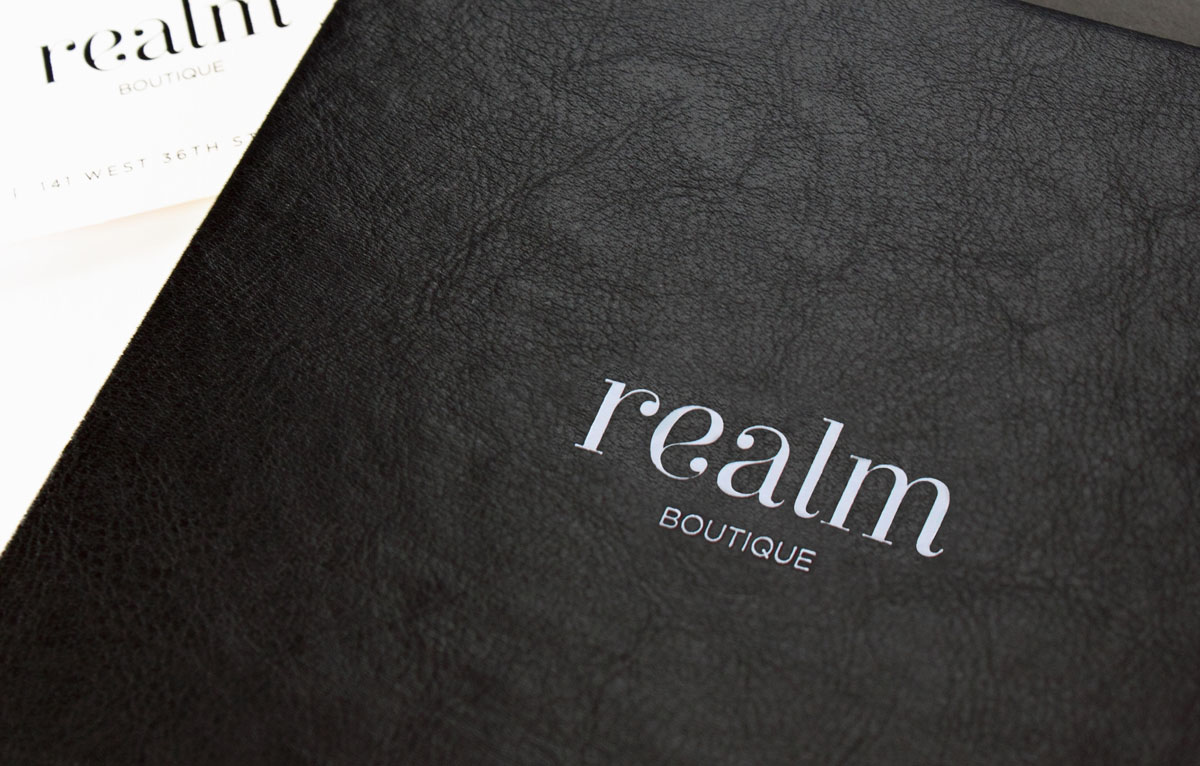 To celebrate the grand opening of Realm, a high-fashion SoHo boutique, we created an invitation that fits alongside its designer collections. Using real leather, we covered the front of the invitation creating a unique, tactile experience. The lettering was foil-stamped on both sides, giving the leather invite an additional touch of elegance.
Theatre Development Fund Gala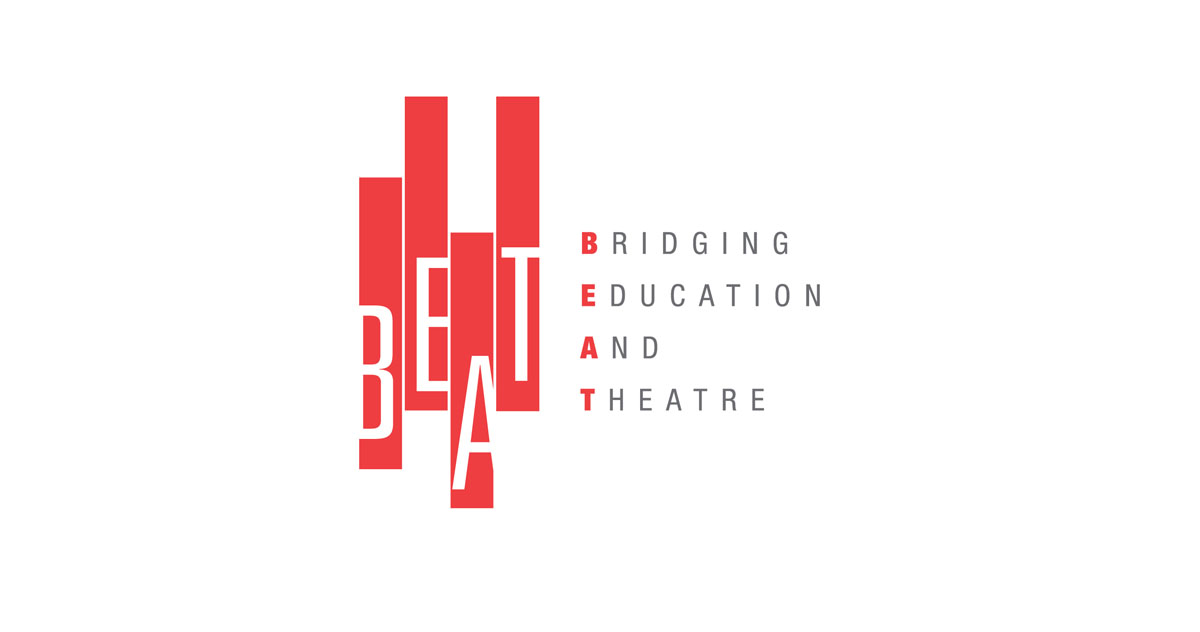 CUNY/TDF BEAT (Bridging Education and Theatre) is a program that makes the performing arts in NYC accessible to the The City University of New York (CUNY) Community. We created a new logo for this program, and a bold invitation for their fundraising gala, that combined elements from music, education, and theatre, and gave it a modern Broadway feel.
Whitney Museum Gala Invitation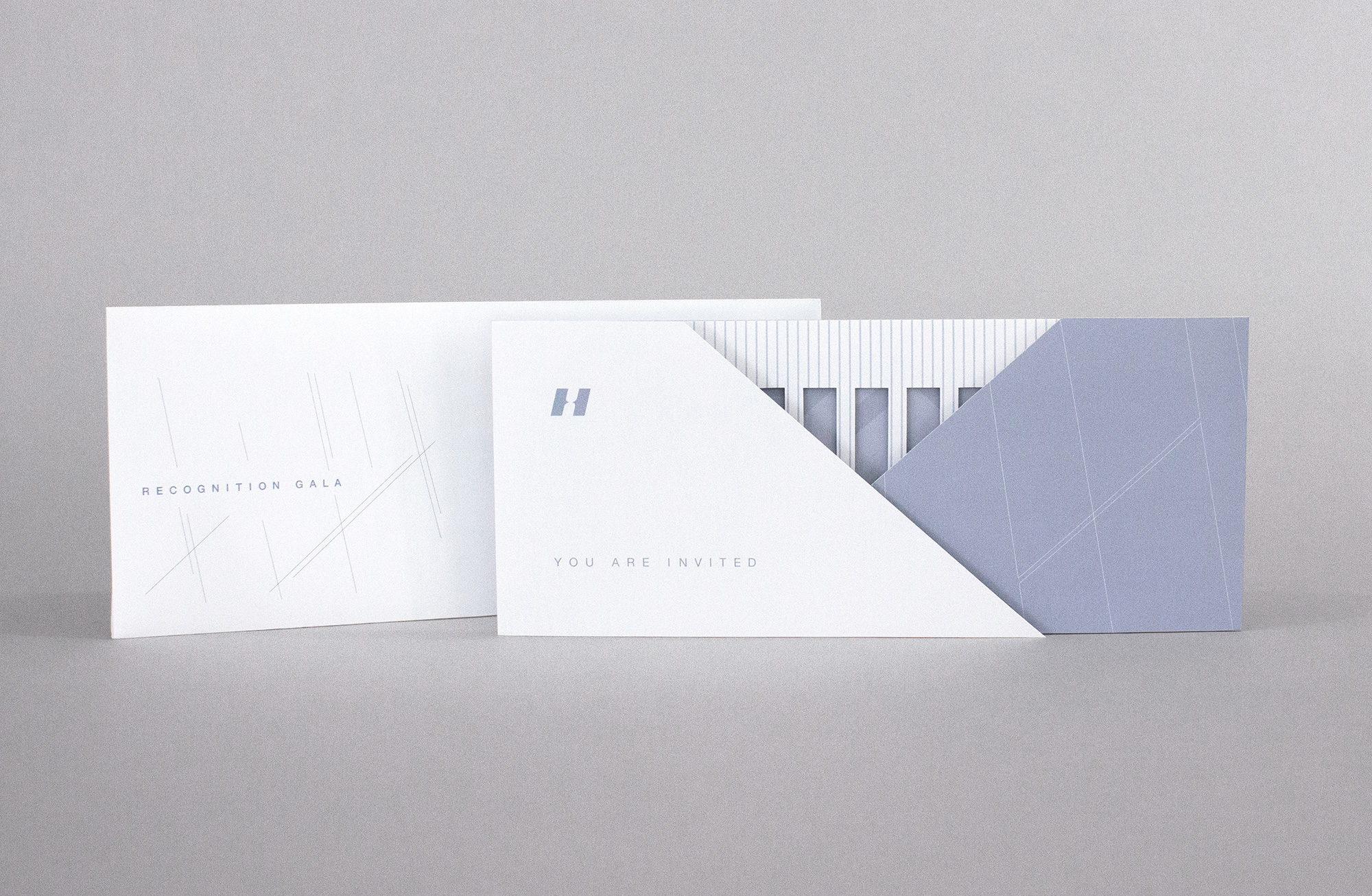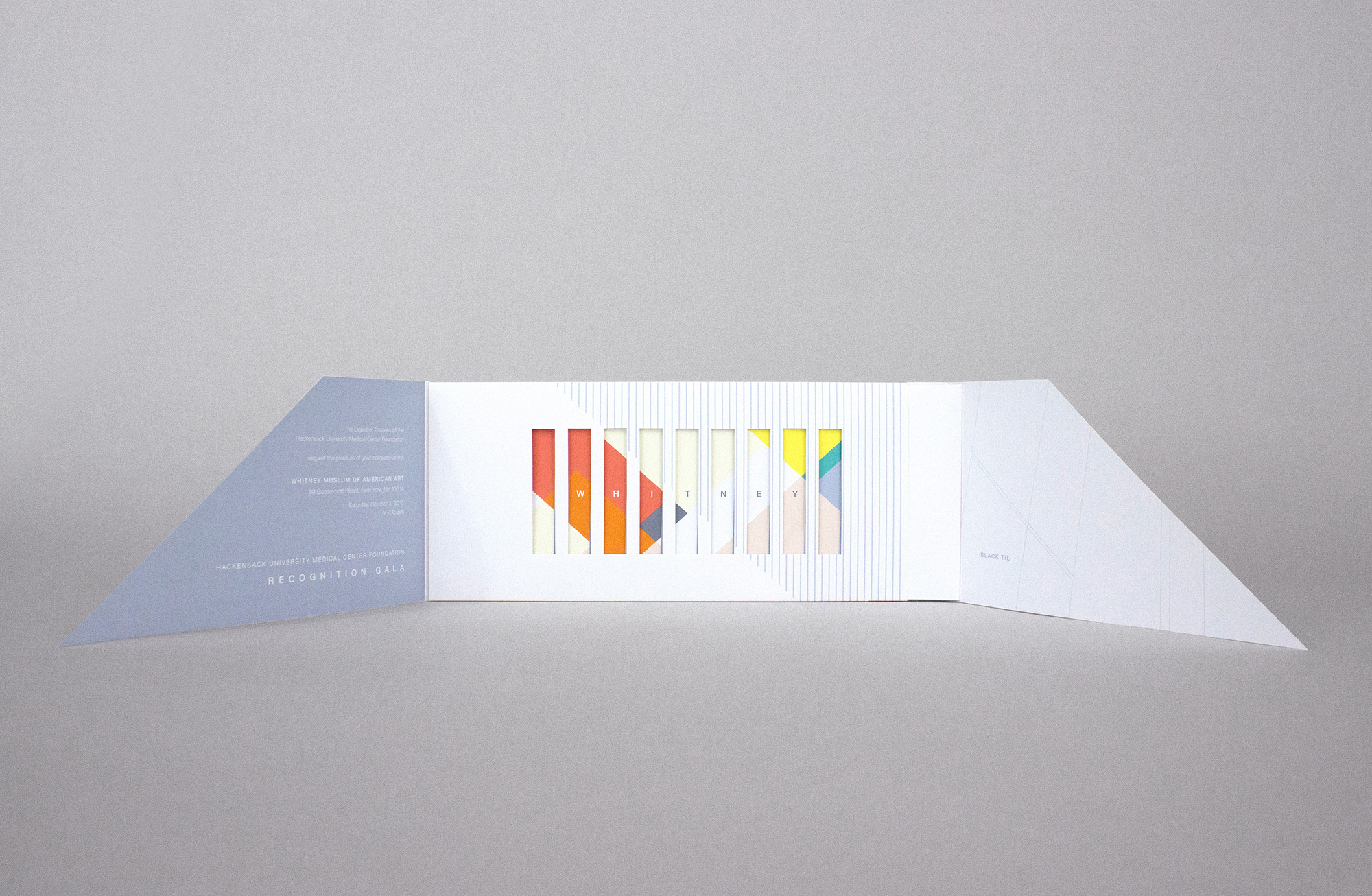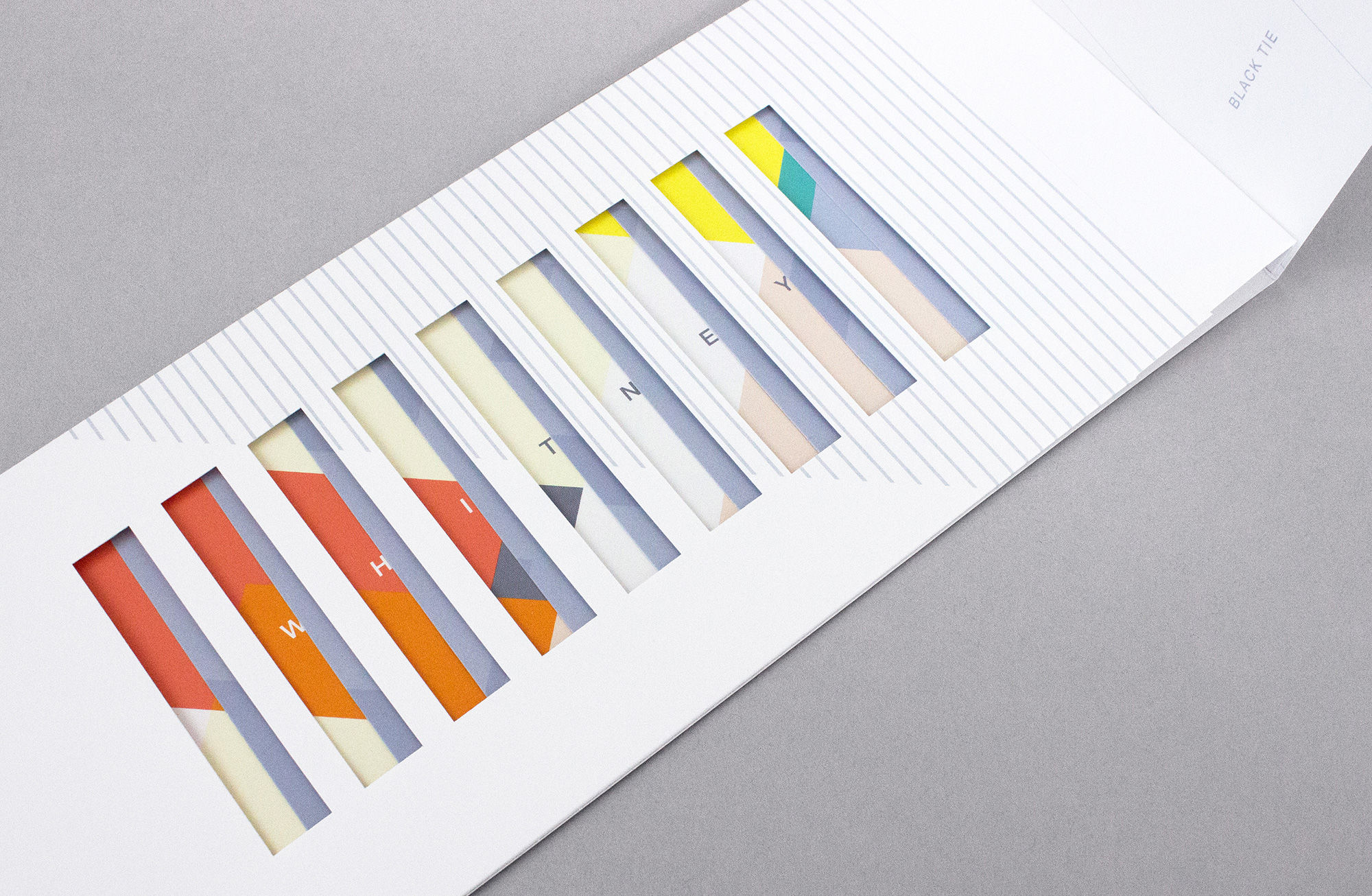 This invitation was for Hackensack University Medical Center Foundation's Annual Recognition Gala, held at the newly opened Whitney Museum of American Art. It was one of the very first events to be hosted in the museum, so we wanted to capture the angular architecture of Renzo Piano's new building, as well as entice guests with a big reveal. When the invitation opens, the image behind the die-cut windows slides to reveal a colorful abstract design, to hint at the art within the museum, and create excitement for the event.
Alexis & Evan Wedding Invitation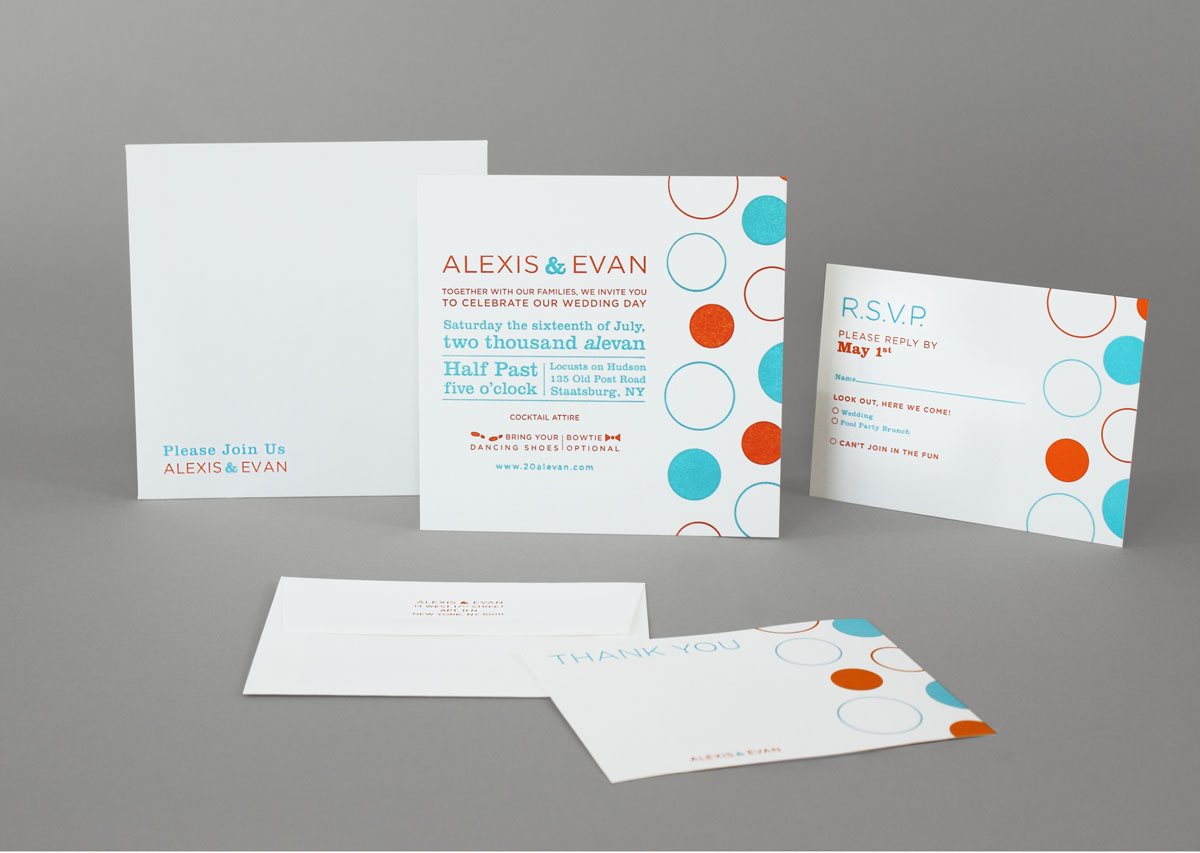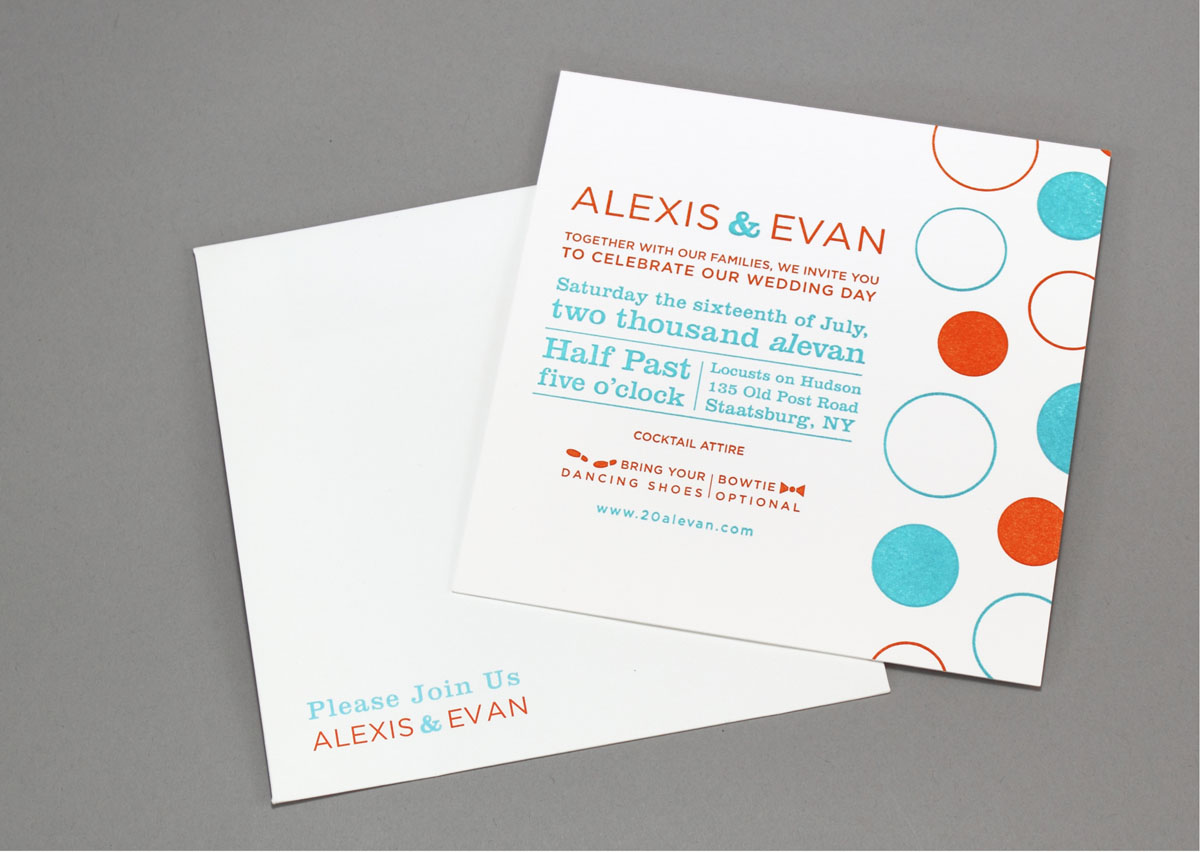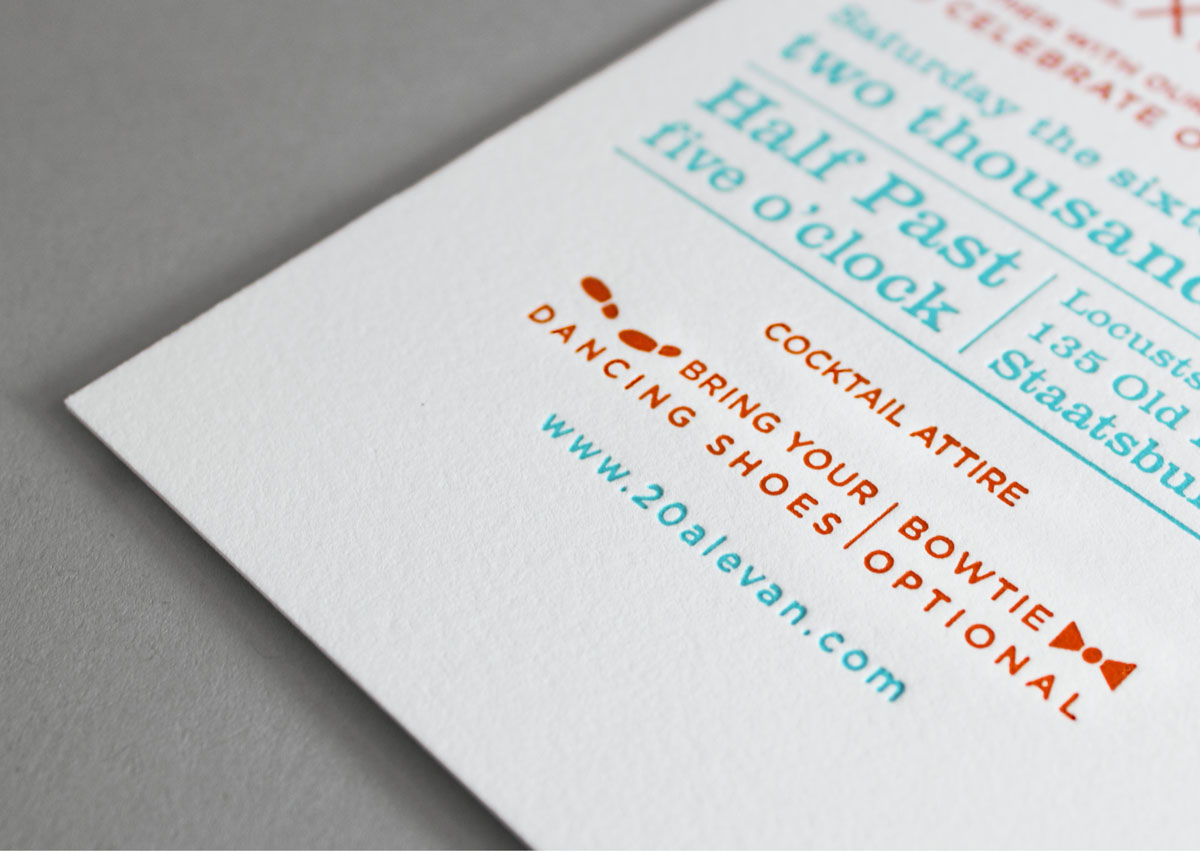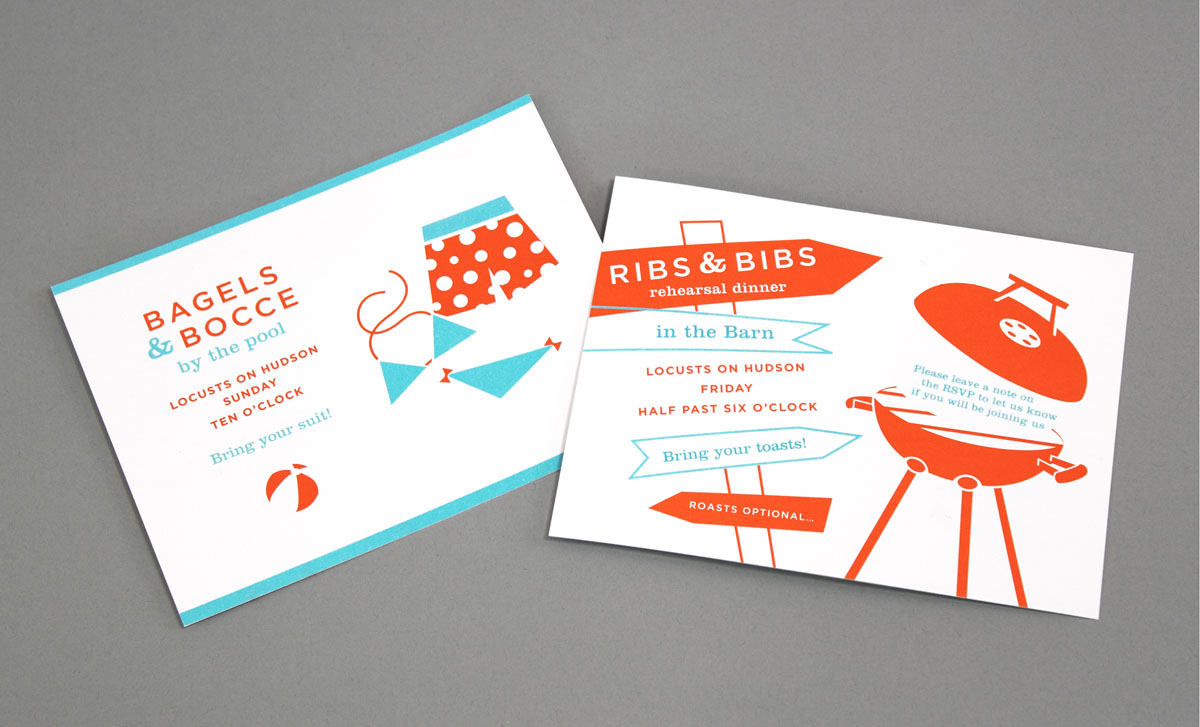 Alexis and Evan were in search of bright and whimsical wedding invitations that would reflect their playful personalities. We designed them vibrant polka-dot letterpress invitations that were accompanied by illustrated pool party and BBQ rehearsal dinner cards.
USS Intrepid Gala Invitation
Designed in red, white & blue, this USS Intrepid-inspired invitation actually took flight! Nautical flags, spelling out secret codes in combination with a feather-light balsa wood airplane, had Hackensack's guests looking forward to a festive night on this retro aircraft carrier with some good ol' American apple pie.
Soros Fund
Management Invitation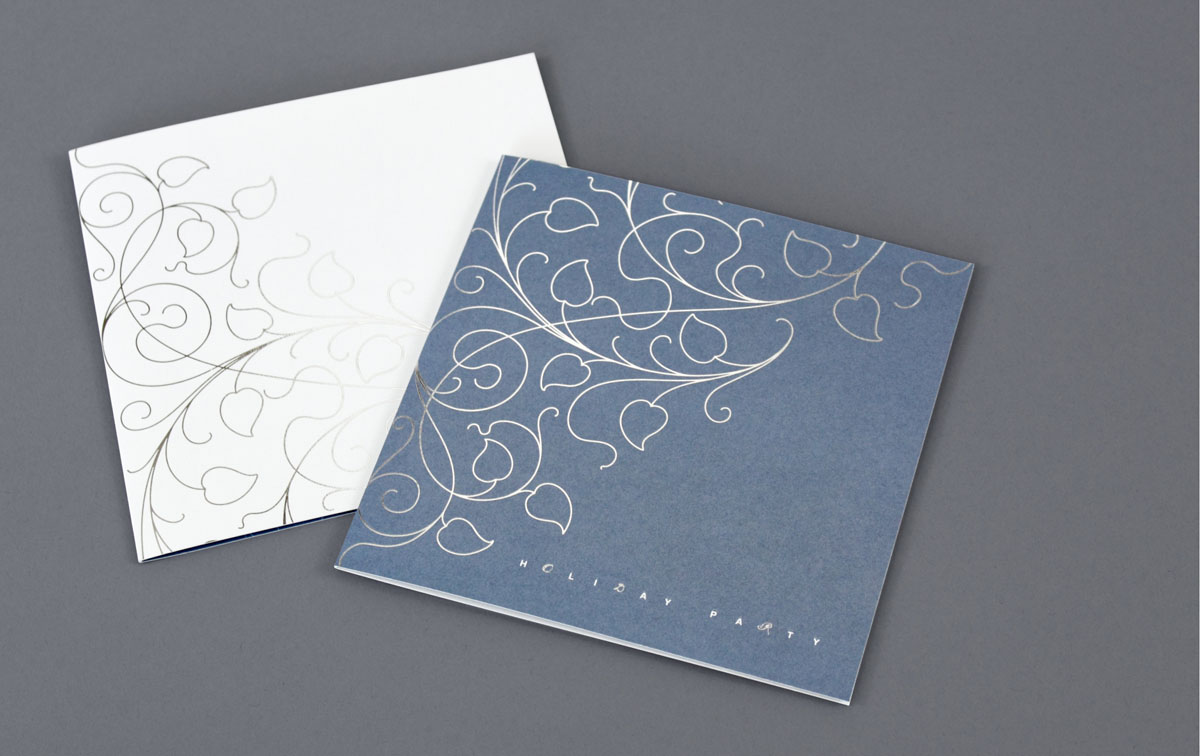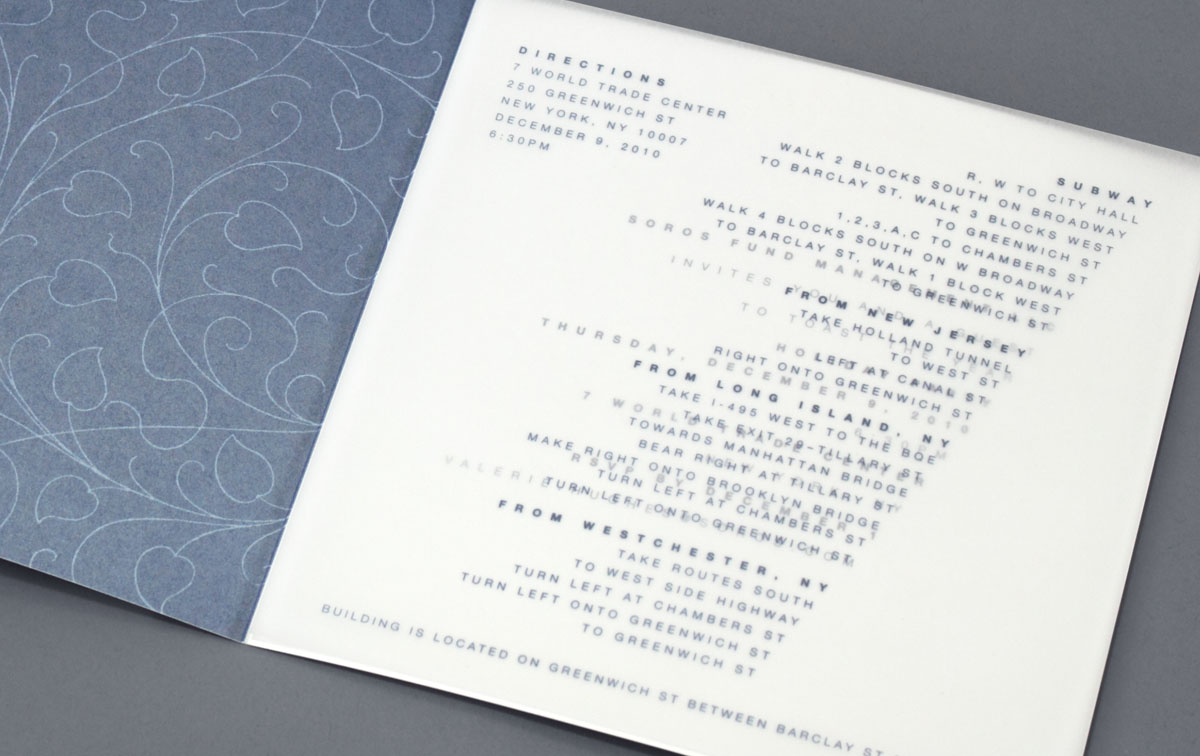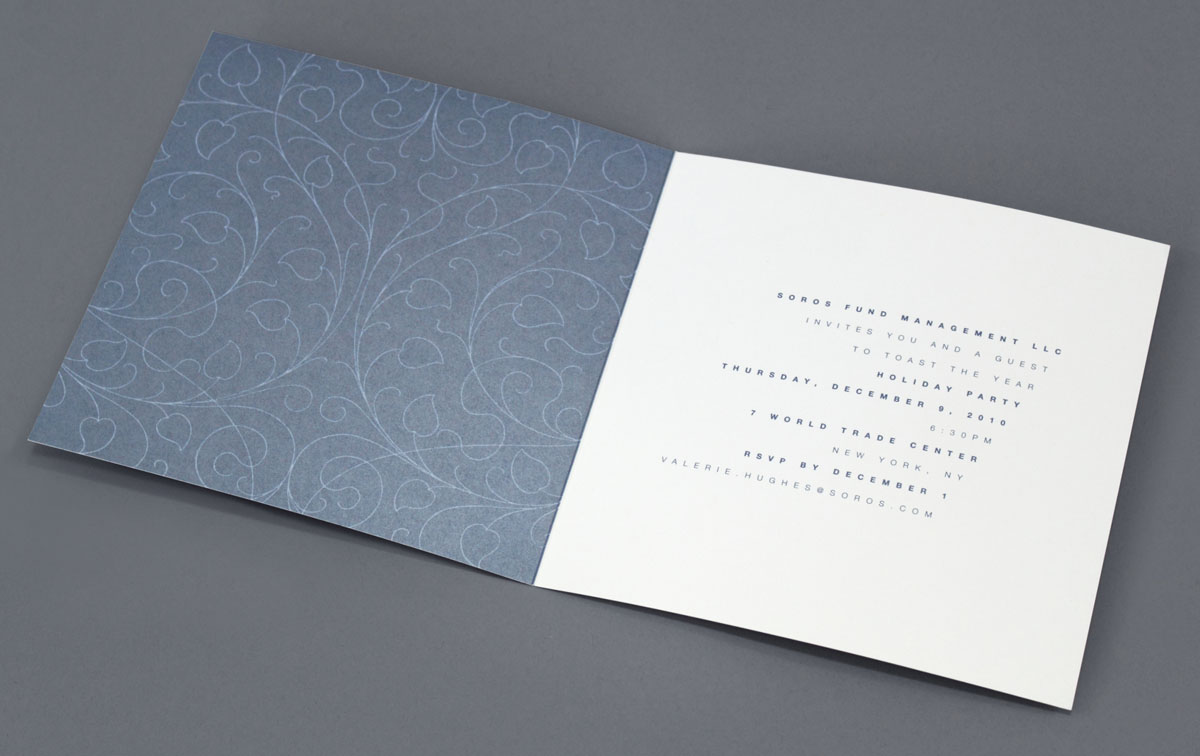 In order to create an invitation to go with the theme of the annual Soros Fund Management holiday party we combined classic vintage with modern elegance. We foil stamped a classic scrollwork leaf pattern, and printed with a metallic blue ink on an uncoated paper. This gave it a subtle sheen, while keeping a nice matte contrast to the reflective foil. We used angles in the layout of the typography to hint at the event location, the 7 World Trade Center.
Grey Goose Rising Icons Invitation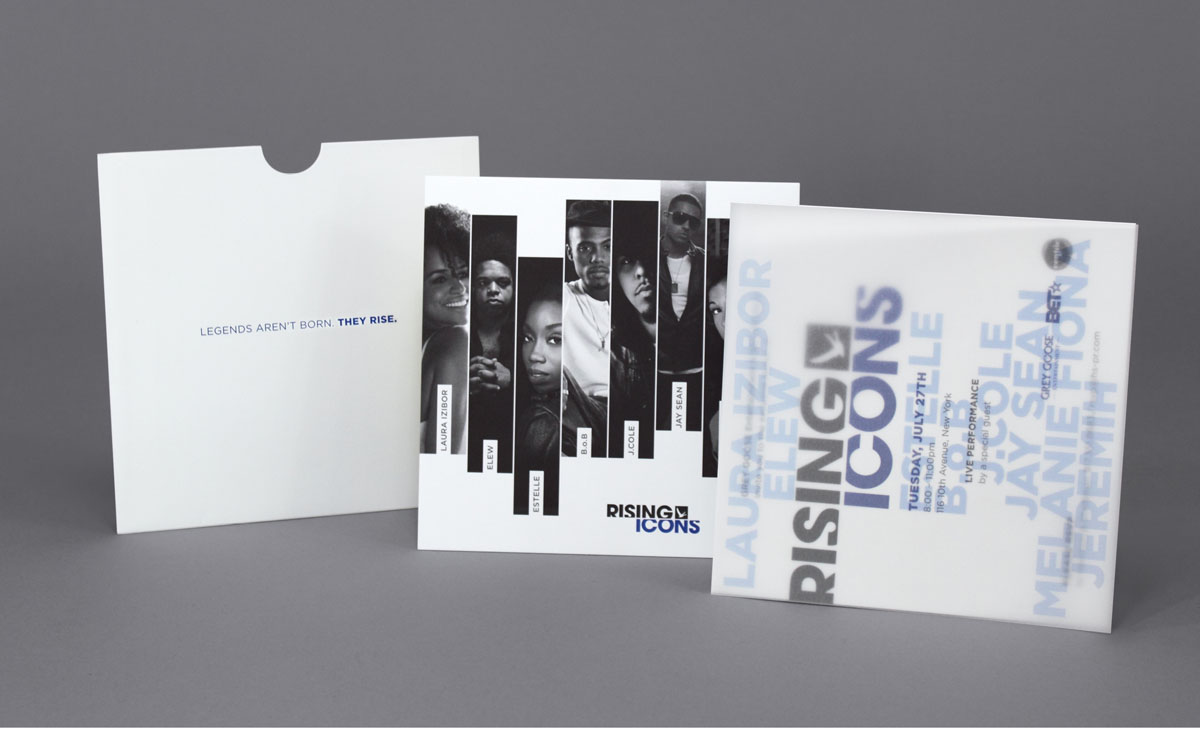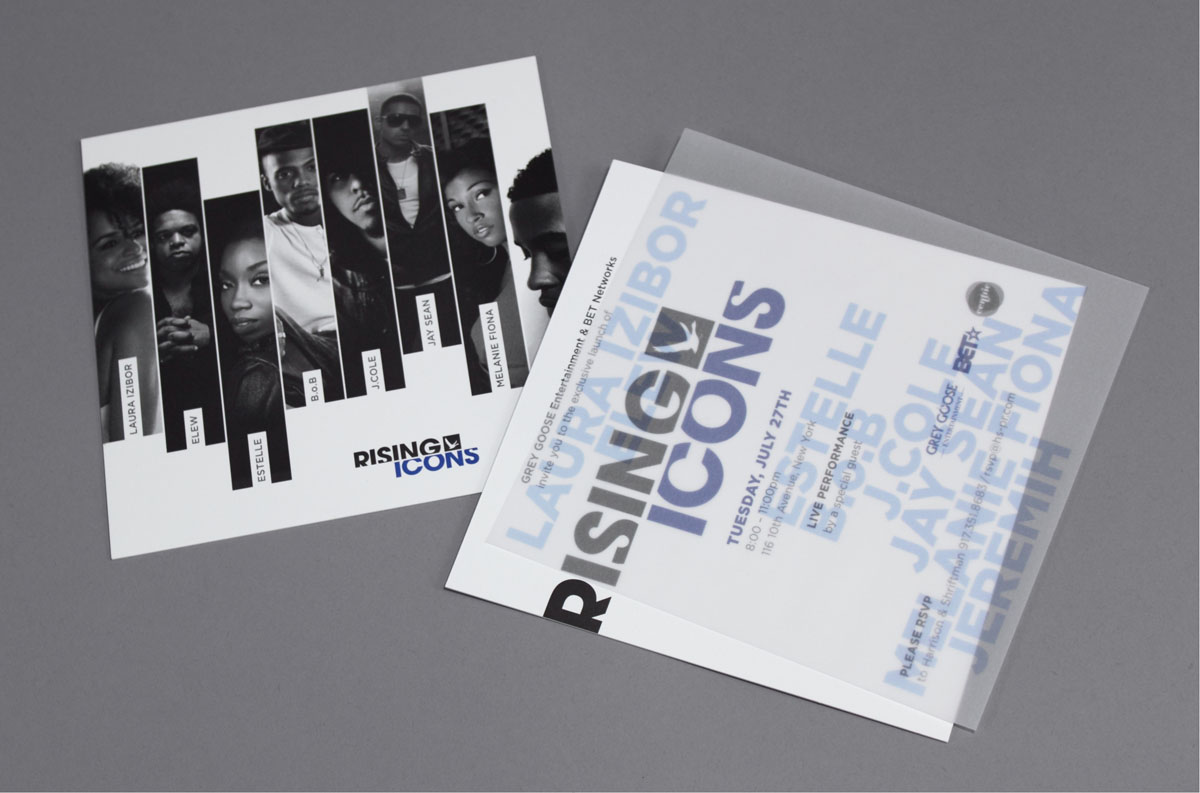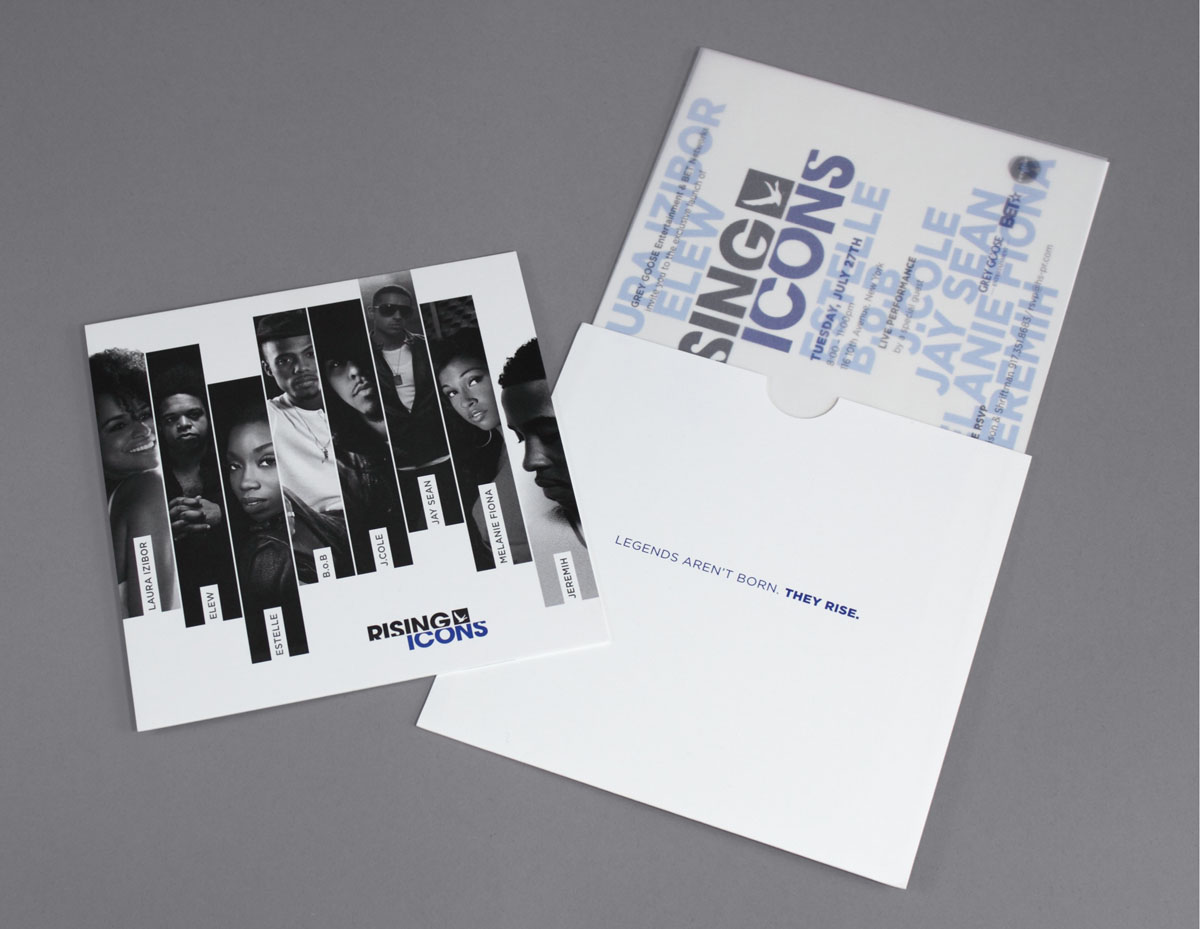 This Grey Goose Rising Icons Event invitation features performer photos and a vellum overlay. The performers "rise" out of the top of the sleeve, playing on the theme.
Blackberry Torch Launch Invitation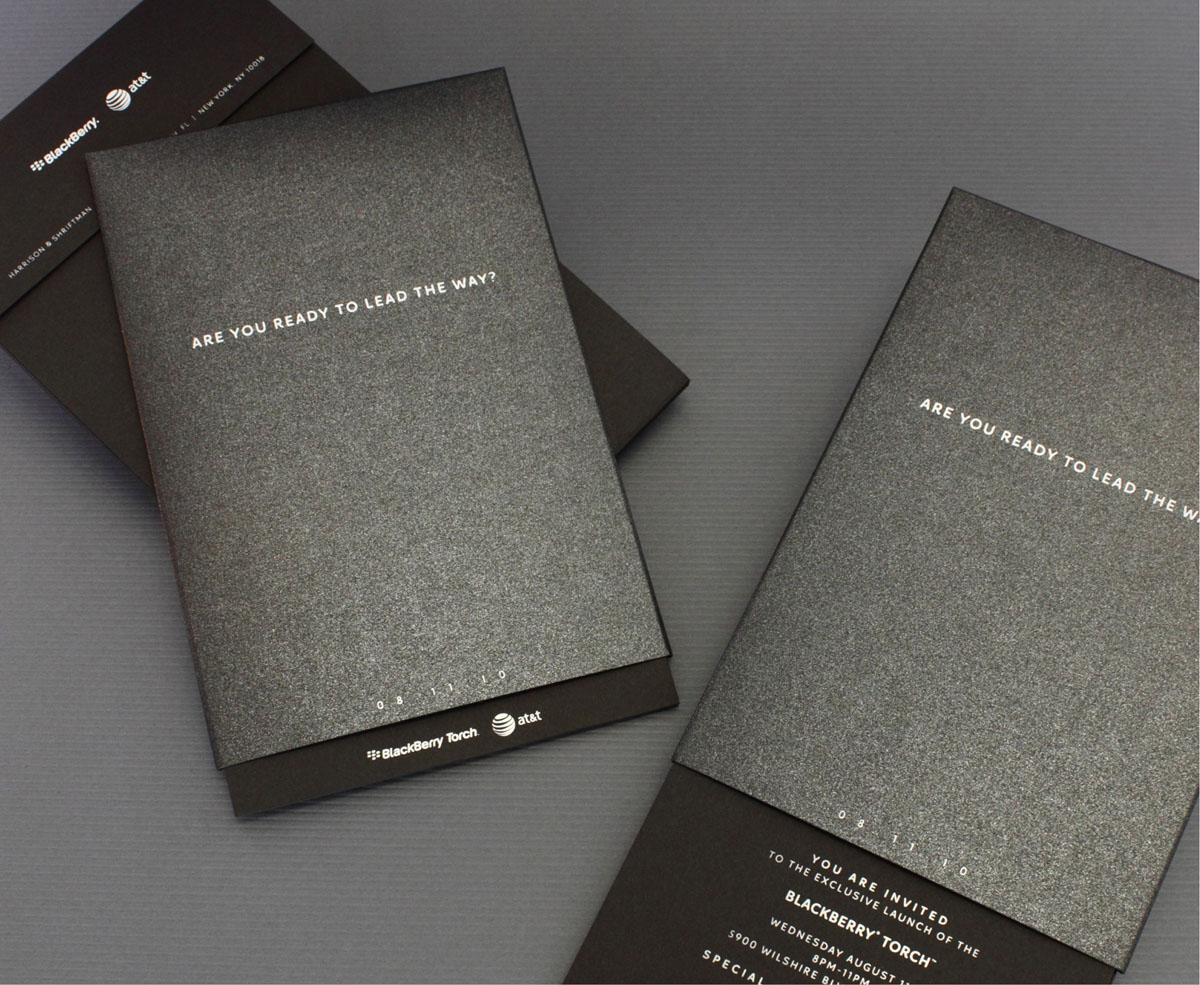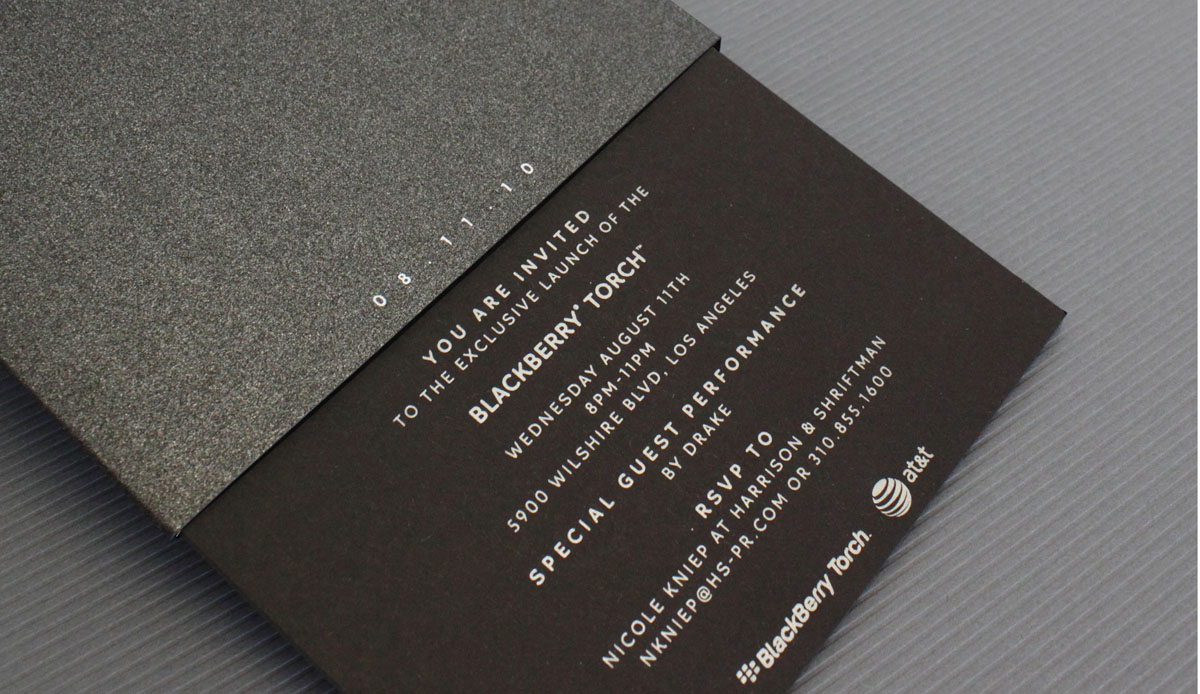 To celebrate the introduction of Blackberry's first sliding phone, the Torch, we wanted to develop a similar structure for its launch party invitation. After experimenting with many different sliding mechanisms, we developed an idea which utilizes an elastic band that pulls the invitation back up into it's sleeve once the recipient has read it. In combination with foil stamping and shimmering paper, this invitation helped to render the excitement surrounding the event, as well as the new product.
James Beard Foundation Awards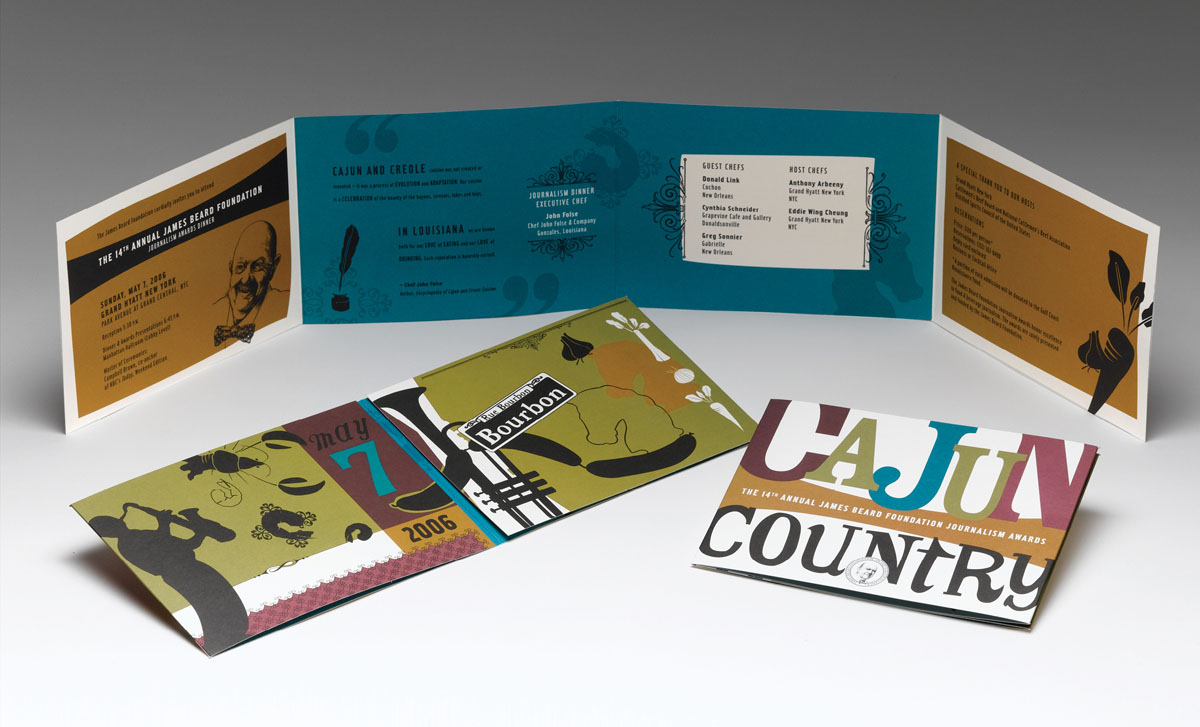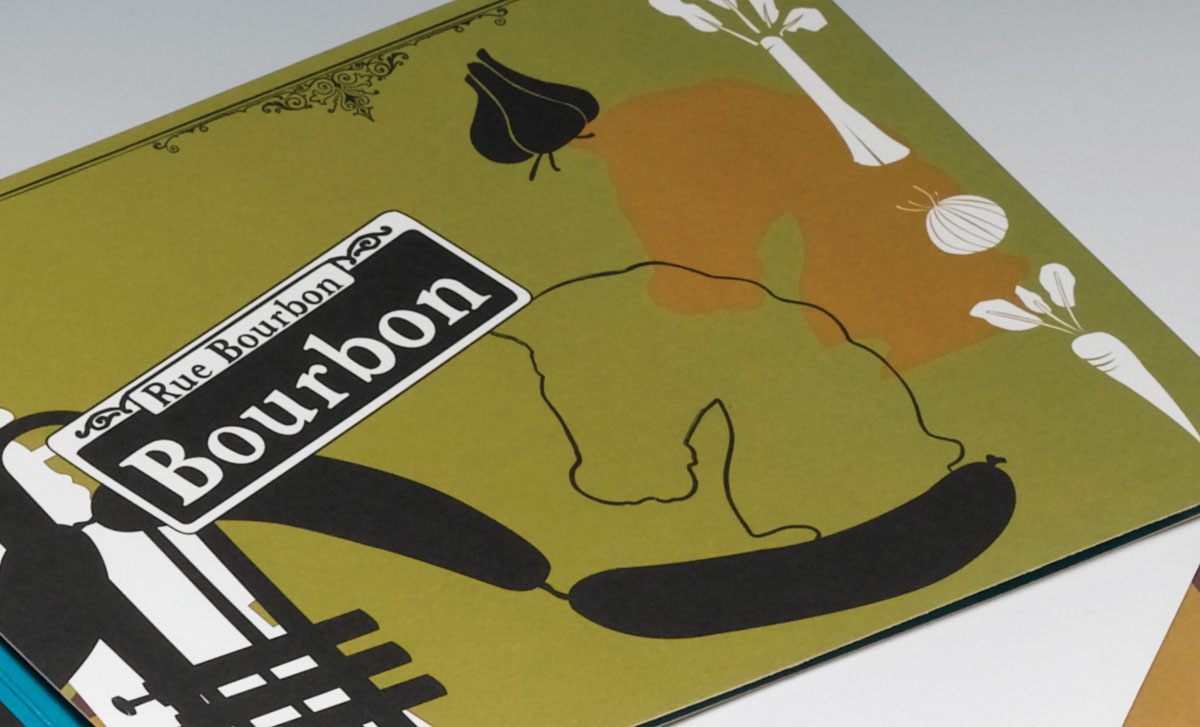 The theme for the James Beard Foundation Journalism Awards dinner was Cajun Country. We created a collage-like design to incorporate the many elements of New Orleans culture and cuisine. These graphics were later translated into the stage backdrop for the gala event held at the Marriott Marquis, NYC.
Eristoff Invisible Ink Invitation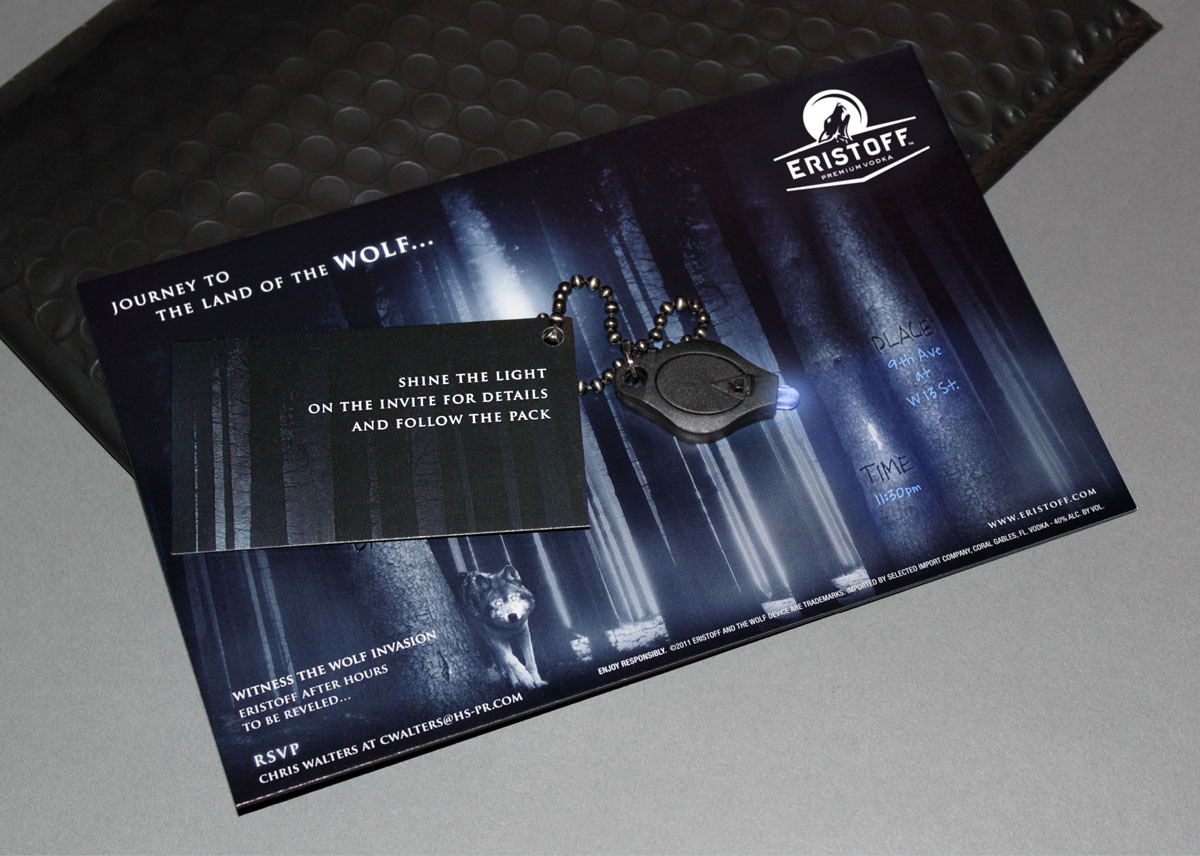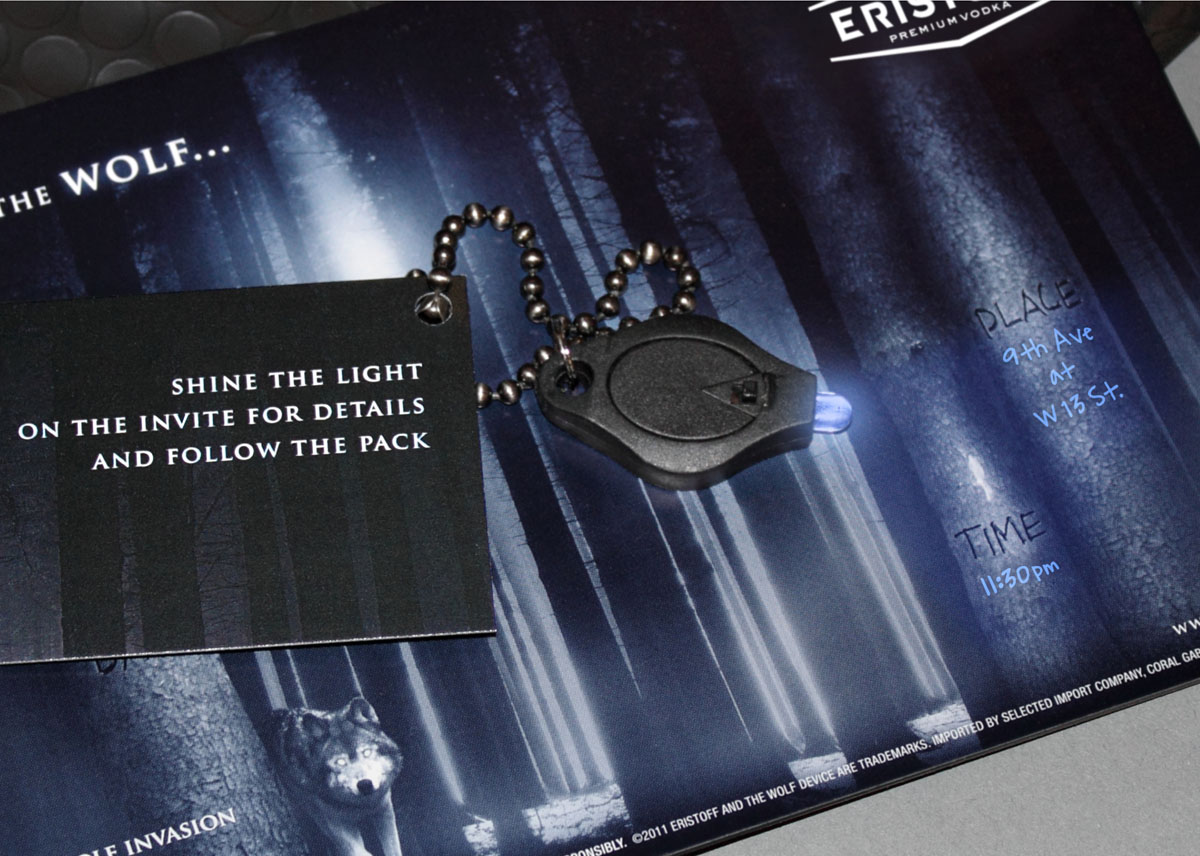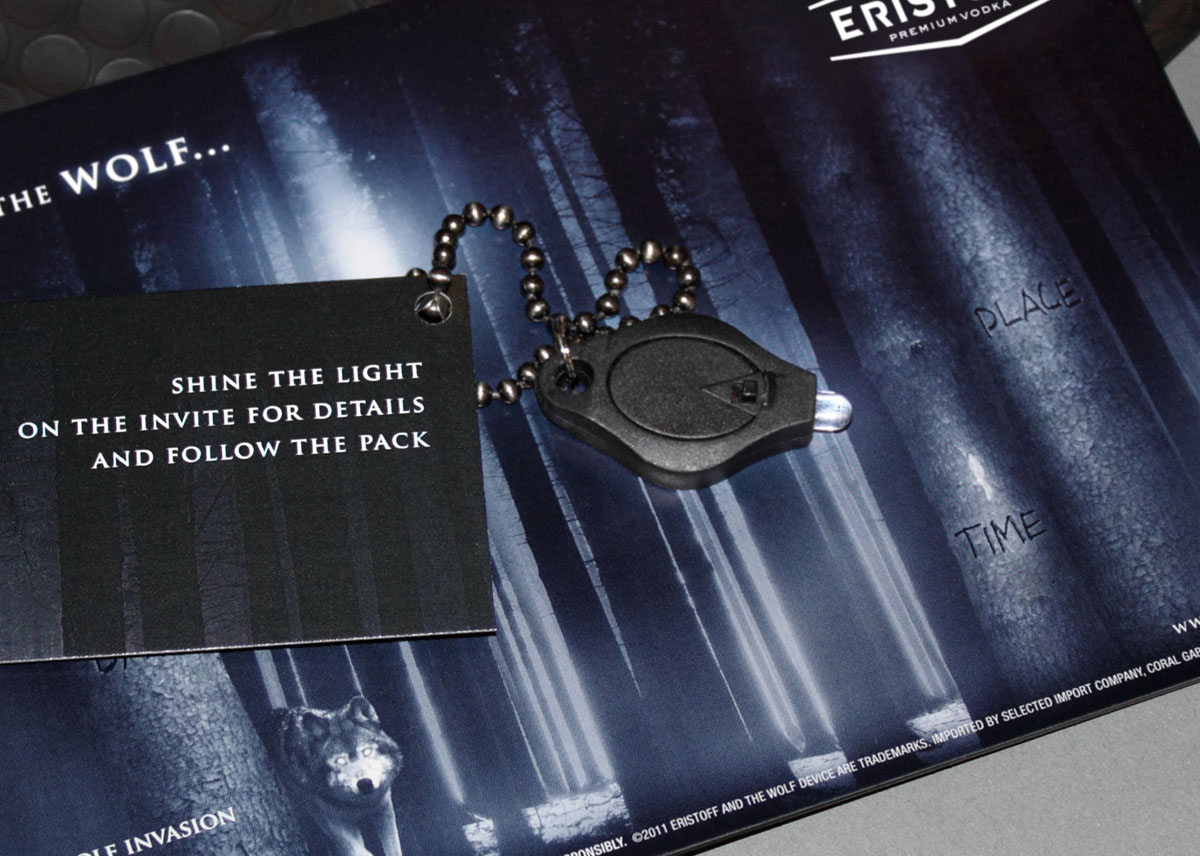 To celebrate the US launch and new global advertising campaign "Land of the Wolf" for Eristoff Vodka, we created a dark and mysterious invitation. Event details were printed in invisible ink and could be revealed by shining the small UV light, which was included in the package, over surface of the invite.